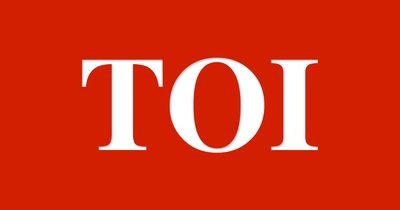 Dharwad: The rain continued to wreak havoc in the district for the fourth consecutive day on Friday, causing problems to the farmers. The farmers were all set to harvest their crops, but their crops have suffered heavy losses. Many houses in the district have partially collapsed due to the rain.
It rained heavily throughout the day on Friday, due to which people did not get any respite from coming out of the house.
Deputy commissioner Nitesh Patil told TOI on Friday, that the district has received the highest rainfall in the last three days and rain relief operations have been initiated.
He said that in November, the district received 70 mm of rain as against the normal 26.3 mm, which is 167% more than the normal. Alnavar taluk has received a maximum rainfall of 120 mm which is 483% more than the normal, while Dharwad taluk has received 110 mm of rain, which is 304% more than the normal limit.
Kalghatgi has received 80 mm of rain, which is 202% more than the normal. These are the three taluks of the district that have received maximum rainfall. Heavy rains have caused crop damage and partial damage to properties.
As per reports, 188 houses in the district partially collapsed and 22 houses were completely damaged. Standing agricultural crops on 7,390 hectares have been completely destroyed, and horticulture crops on 1,210 hectares have been damaged.
Giving details of the collapsed houses, Patil said that 60 houses in Dharwad taluk have partially collapsed, while 15 have been completely damaged.
A total of 29 houses were partially damaged in Hubli rural, seven in Hubli town, 22 in Kalghatgi, 57 in Kundgol, nine in Navalgund and four in Annigeri.
The crops of paddy, gram and cotton have suffered heavy losses. According to a PWD report, 28 km of roads have been damaged in the district, and the estimated loss as per NDRF norms is Rs 4 crore.
The Holtikoti tank in Dharwad taluk on Haliyal Road had broken recently, and water had flowed into several areas. An amount of Rs 15 lakh has been released for the development of the pond and the Minor Irrigation Department has started work from Friday.
The water level in Indirammana Kere of Alnavar is rising continuously, but has not reached the danger mark. Farmers have been asked to exercise caution and not cross swollen streams along the banks of rivers and ponds.
Patil said all tehsildars have been asked to stay at their taluk headquarters and keep a watch on the rain situation. He clarified that there was no report of any casualty or casualties in the district.
FacebookTwitterLinkedinE-mail
,