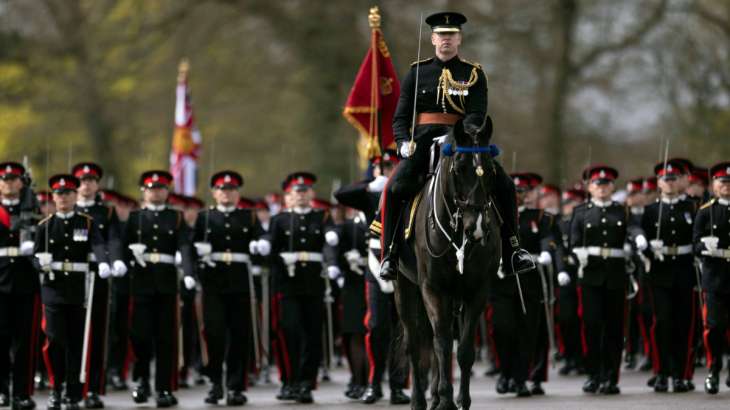 At least three soldiers fainted in the heat during a royal military parade on Saturday, and Prince William acknowledged the "difficult conditions".
The Met Office later confirmed that 30.5 °C was recorded at Heathrow, marking the first time this year that temperatures in the UK exceeded 30 °C (86 °F).
William tweeted after the incident: "Many thanks to every soldier who attended the Colonel's Review this morning. Tough conditions but you all did a really good job.
The event was a practice run for Trooping the Colour, a military parade held each year in June to celebrate the monarch's official birthday. King Charles III will oversee the event on 17 June.
More than 1,400 soldiers and 200 horses from the Household Division of the Welsh, Irish, Scottish, Grenadier and Coldstream Guards were reportedly paraded during the Colonel's Review for Prince William's inspection.
This marching was held in front of The Variety March, which takes place the following Saturday.
During the ceremony, horses and soldiers performed complex battlefield drill maneuvers to military music.
The Met Office has issued its first heat alert for much of England ahead of a scorching weekend.
The UK Health Security Agency (UKHSA) issued an amber heat-health alert for the West Midlands, East Midlands, East of England, South East and South West until 9am on Tuesday because of the heat.
Accordingly, "the effects of the heat are likely to be felt across the health service… and the wider population, not just the most vulnerable," it said.
Temperatures in Kew Gardens, Heathrow, East Sussex and Surrey reached 30 degrees Celsius at around 11am on Saturday.
Forecasters said it could be the hottest day of 2023 on record, but some areas could also expect torrential rain, hail and strong winds.
The Met Office has issued a yellow thunderstorm warning for parts of the UK this afternoon, so it's not going to be completely sunny.
Read this also | Meghan Markle, Prince Harry pictured joining Prince William and Kate Middleton at Windsor following the Queen's death
read this also , Kate Middleton tries dish with 'Viagra', mocks Prince William; watch viral video