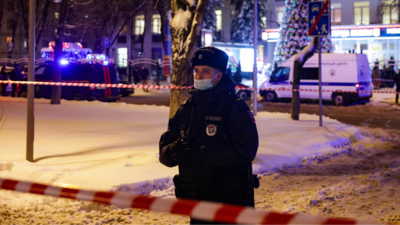 A police officer stands guard at the scene of a shooting incident at a public service office in Moscow (AFP)
MOSCOW: Two people were killed after a gunman opened fire inside a public service office in Moscow on Tuesday, the mayor of the Russian capital Sergei Sobyanin said.
"As a result of a shooting by an unknown person, two people were killed, three were injured," Sobyanin said on Twitter.
He said the incident took place at a multi-functional government office in the southeast of the city.
Sobyanin said that "doctors are doing everything possible to help the injured."
Russian news agencies quoted Interior Ministry sources as saying that a child was injured in the shooting.
Investigators in the capital began a criminal case in the shooting, they also reported.
Mass shootings are rare in Russia, but the country saw two separate tragic killings—one at a school, the other at a university—this year, prompting lawmakers to tighten laws governing access to guns.
In a high-profile public shooting in 2019, a gunman opened fire near the FSB domestic intelligence agency headquarters in central Moscow, killing one officer and wounding five.
There have also been other high-profile cases of shootings in the Russian military.
In November 2020, a 20-year-old soldier killed three fellow soldiers at a military base near the city of Voronezh.
Eight soldiers were shot dead by a young recruit in a similar attack in 2019.
FacebookTwitterLinkedinE-mail
,