920" src="https://resize.indiatvnews.com/en/resize/newbucket/1200_-/2023/02/pm-modi-roadshow-1677491630.jpg" class="attachment-post-thumbnail size-post-thumbnail wp-post-image" alt="Karnataka: PM Modi holds a roadshow in Belagavi ahead of assembly election | WATCH" decoding="async" />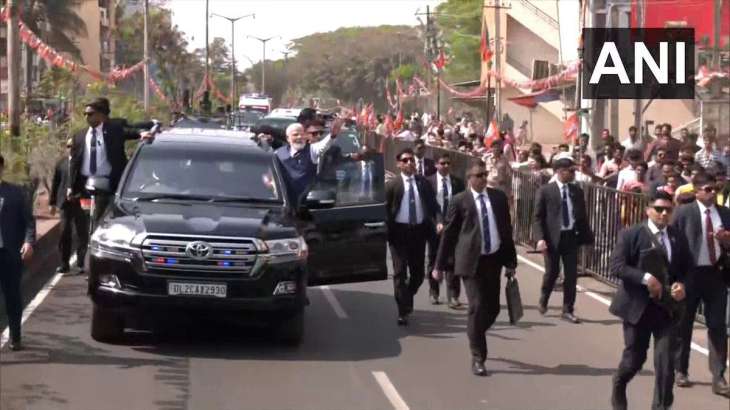 Karnataka: Prime Minister Narendra Modi did a mega roadshow on Monday in Belagavi, Karnataka. Before this big show of strength, PM Modi inaugurated Shivamogga Airport.
As assembly elections in Karnataka round the corner, Prime Minister Narendra Modi on Monday held a massive roadshow in the district headquarters town, drawing a large number of enthusiastic crowds, who lined up on both sides of the route. The Prime Minister is to lay the foundation stone and dedicate several development initiatives in the city, and also to release the 13th installment of PM-KISAN worth over Rs 16,800 crore.
Modi greets people by shaking hands
The roadshow route, about 10.5 km long, till Malini City (the venue of the stage programme) was decorated in saffron colour, where BJP flags, posters and banners were seen. Standing on the 'running board' of his moving car, Modi greeted the crowds gathered on the roadside and nearby buildings, many of whom were seen chanting 'Modi, Modi' and cheering loudly.
People showered flowers on Modi
People showered flower petals at many places as his convoy slowly passed by. Party sources said over 10,000 women dressed in sarees and saffron peta (traditional headgear) welcomed Modi to the 'Purn Kumbh' (ceremonial).
He said there were also several stage shows, some equipped with LEDs, depicting the culture and traditions of different regions and historical personalities of the country, programs of the BJP government.
Assembly elections are due in the BJP-ruled state of Karnataka by May.
Why is Belagavi important for BJP?
Belagavi, bordering Maharashtra, is the second largest district in the state with 18 seats, after Bengaluru Urban with 27 assembly constituencies (28 including Anekal). In 2018, the BJP won 13 seats in Belagavi and emerged as the single largest party with 105 seats in the state.
PM inaugurates Shivamogga Airport
The Prime Minister inaugurated the Shivamogga Airport in Karnataka on Monday. Earlier, he inspected the model of the airport before the inauguration ceremony. The event took place on the occasion of the 80th birthday of Karnataka BJP stalwart and former chief minister BS Yeddyurappa. Shivamogga is the home district of Yediyurappa, a four-time chief minister. Addressing the people, PM Modi said that those wearing slippers should now travel in aeroplanes.