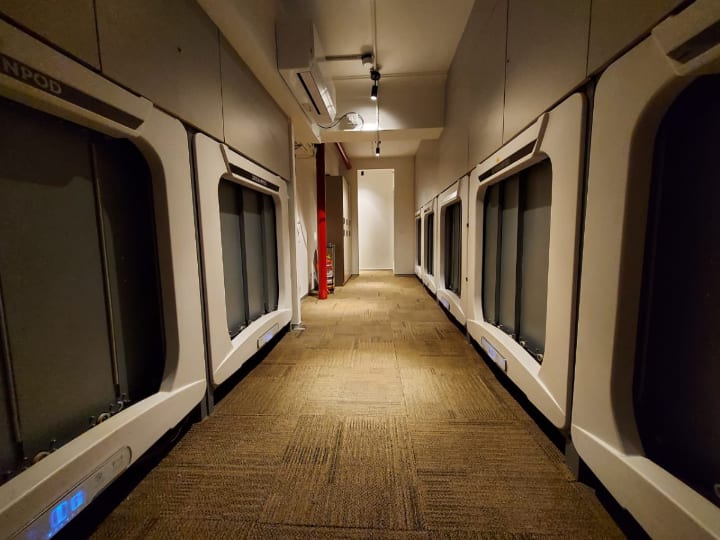 New Delhi: Ministry of Railways gave a glimpse of all new pod rooms at Mumbai Central station for those who are on a short business trip or a group of students who are on tour and they are traveling by train.
According to a senior official of Western Railway (WR), Rs 999 for a stay in this pod hotel for 12 hours and Rs 1,999 for 24 hours will have to be paid. Available amenities include WiFi, TV, a small locker, adjustable mirror and reading light.
Read also: 'One Nation, One Legislative' platform will connect the democratic units of the nation: PM Modi
Traveling by train on a short business trip or taking a group of students on a tour, the POD rooms at Mumbai Central Station are here to make your journey comfortable and easy. pic.twitter.com/7yfbSfeZ9g

— Ministry of Railways (@RailMinIndia) November 17, 2021
Union Minister of State for Railways Raosaheb Danve on Wednesday virtual inaugurated the first Pod Hotel of Indian Railways from Churchgate station in South Mumbai. The Minister also inaugurated various passenger amenities through video link.
During the event, Danve said that travelers will find accommodation at affordable rates in pod-concept hotels, also known as capsule hotels. He also inaugurated the Railway Public Grievance Office at Churchgate station.
"Confirmed seats are not available for passengers traveling in general coaches of trains. Railways should ensure that confirmed seats are provided to passengers," he said.
Danve inaugurated a coach-themed restaurant at CSMT and an executive waiting room at CSMT and Mumbai Central railway stations and dedicated Ambernath and Kopar railway stations on the Mumbai suburban network, foot overbridges, escalators, lifts and toilet blocks.
— Ministry of Railways (@RailMinIndia) November 17, 2021
WR General Manager Alok Kansal said the total cost of the projects and facilities inaugurated on Wednesday was Rs 230 crore. He said that the Pod Concept Hotel at Mumbai Central Station is the first of its kind on Indian Railways.
"Travellers can avail all the modern amenities at these pod concept rooms at comparatively affordable rates. Passengers, as well as the general public, can stay in the pod rooms by paying Rs 999 for 12 hours and Rs 1,999 for 24 hours. Huh." by PTI.
,