New Delhi: The website of the Uttar Pradesh Higher Education Service Commission (UPHESC), an autonomous body under the state government, mentions the famous Urdu poet Akbar Allahabadi as Akbar Prayagraj.
However, a government official said that the website was hacked and a complaint was lodged with the cyber cell of the city police.
"It was apparently the handiwork of some miscreants expressing their apparent displeasure over the change of name of Allahabad," PTI quoted Dr Vishwakarma as saying.
In 2019, the Center approved the renaming of Allahabad to Prayagraj as per the demand of the Yogi Adityanath government.
Urdu poet Syed Akbar Hussain, popularly known as Akbar Allahabadi in the "About Allahabad" section of the UPHESC website, has been renamed as Akbar Prayagraj.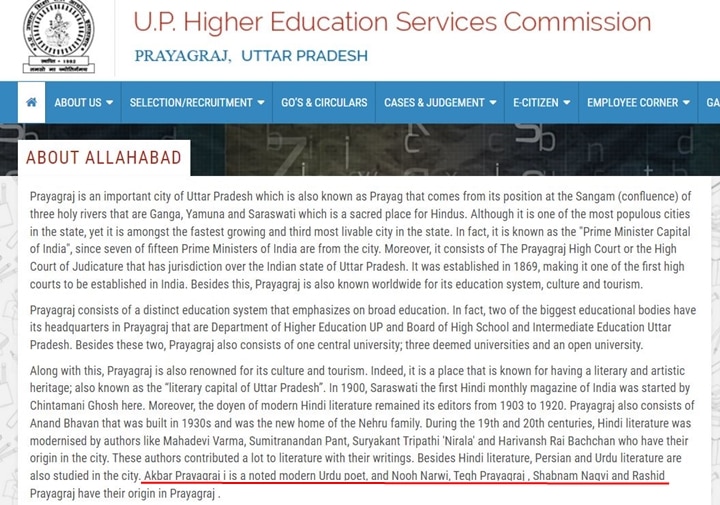 Apart from Akbar Allahabadi, the poets Rashid Allahabadi and Tegh Allahabadi have also been renamed. He is mentioned as "Rashid Prayagraj" and "Teg Prayagraj".
In a para mentioning the city's literary and artistic heritage, the website says, "Apart from Hindi literature, Persian and Urdu literature is also studied in the city. Akbar Prayagraj is a renowned modern Urdu poet, and Nuh Narvi, Tegh Prayagraj, Shabnam Naqvi and Rashid Prayagraj originated in Prayagraj."
The development has sparked a debate on social media, with many criticizing the UP government.
UP govt also changed Allahabadi takhallus (pen-name) of poets into Prayagraj. On its website, UP Higher Education Services Commission wrote the names of Akbar Allahabadi, Rashid Allahabadi and Tegh Allahabadi as Akbar Prayagraj, Rashid Prayagraj and Tegh Prayagraj. pic.twitter.com/kTHa0P1KLy

— waqar hassan (@waqarhasan1231) December 28, 2021
Haramba Chaturvedi, a professor at Allahabad University, called the move an act of "disruption". Chaturvedi told The Print that the renaming of famous poets shows that "the authorities have a disproportionate understanding of history".
Akbar Allahabadi is known for his couplets and poems which talk of peace and harmony between Hindus and Muslims. He was awarded the title of Khan Bahadur by the British Government for his work in the judicial services.
A collection of his poems on Mahatma Gandhi, titled Gandhinama, is also very famous. He was given the title of "Lisan-ul-Asr" for his literary excellence.
,