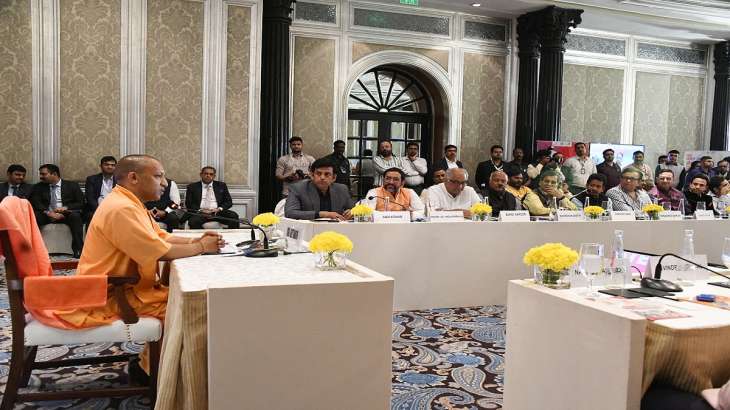 UP Investor Summit: Projecting Uttar Pradesh as a film-friendly state, Chief Minister Yogi Adityanath on Thursday invited prominent members of the entertainment industry to explore his state as a film-making destination.
Interacting with members of Bollywood here, the Chief Minister said, "We have made two members of your film fraternity MPs and we know the issues you are facing and what needs to be done." Cinema plays an important role in uniting the society and maintaining the unity and sovereignty of the country."
Uttar Pradesh has emerged as film friendly state: CM Adityanath
Adityanath, who is visiting Mumbai to promote an investor summit to be held in Lucknow next month, said Uttar Pradesh has emerged as a film-friendly state and has been honored with National Film Awards and Indian International Film Awards. Festival (IFFI) has been recognized. ,
What did the CM of UP say in Mumbai?
He said that apart from a safe environment, the northern state has good connectivity. The Chief Minister said that under the film policy of his government, if any web series is shot in UP, it will be given 50 percent subsidy. Similarly, 25 per cent subsidy is given for setting up studios and film labs.
Read also: On Yogi Adityanath's outfit for Mumbai meetings, Congress leader said, 'Be a little modern, don't…'
Producer Boney Kapoor, Gorakhpur Lok Sabha MP and actor Ravi Kishan, Bhojpuri actor Dinesh Lal Nirahua, playback singers Sonu Nigam, Kailash Kher, actor Suniel Shetty, filmmakers Chandraprakash Dwivedi, Madhur Bhandarkar and Rajkumar Santoshi were present at the event. ,
It is noteworthy that Adityanath also met Mukesh Ambani, Chairman and Managing Director of Reliance Industries Limited after talking to the members of Bollywood.