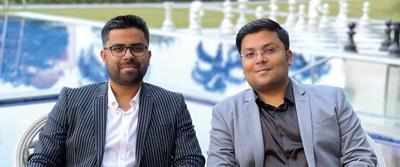 Priyank and Ishank Gupta own an IT firm, W3Villa Technology Pvt Ltd, which has offices in the city of San Diego, California (USA) and in Noida and Kanpur.
LUCKNOW: Siblings and entrepreneurs, Priyank Gupta (36) and Ishank Gupta (32), were initially upset when they received a notice from the Uttar Pradesh Metro Rail Corporation (UPMRC) regarding acquisition of land, which they set. Bought to do. In his office for Kanpur Metro Project.
After deliberation, the brothers showed a big heart and decided to share their land worth Rs 48 lakh with UPMRC for the construction of Motijheel metro station without taking a single penny.
B.Tech graduates Priyank and Ishank have an IT firm, W3Villa Technology Pvt Ltd, with offices in San Diego city of California (USA) and Noida and Kanpur in India. He established his firm seven years ago.
Considering the huge pool of IT talent available in Kanpur, the duo bought land in Swaroopnagar to set up their office.
"Kanpur has huge IT talent but lacks skills in Blockchain technology. Hence, we decided to expand our operations to our hometown and bought a commercial land at the end of 2019 at a price higher than the circle rate, as for the office Paying the rent was putting a huge financial burden on us," said Ishank, the younger of the two.
"However, a month later, we received a notice from the UPMRC regarding the acquisition of our office land for the Kanpur Metro project," he said.
"Initially, we did not know how to respond to the notice as we were more focused on expanding our company. Moreover, the compensation amount for the entire land was less as compared to what we had paid. In the end, we decided to share our land with UPMRC after discussing the specifics and came to a mutual agreement to support the government project," said Priyank, who returned from the Netherlands, where he worked with a Dutch airline Worked as a technical developer for
Priyank did his graduation from a private university located in Mathura while Ishank completed his graduation from Lucknow.
On condition of anonymity, a UPMRC official engaged in the Kanpur Metro project said: "Initially, we wanted to buy the entire land. However, since we only needed land for two pillars, we abandoned the initial plan. The Gupta brothers were so humble that they shared their land with the UPMRC without taking a single penny. In return, we also collaborated with them and gave them entry and exit points for their under-construction office.
FacebookTwitterLinkedinE-mail
,