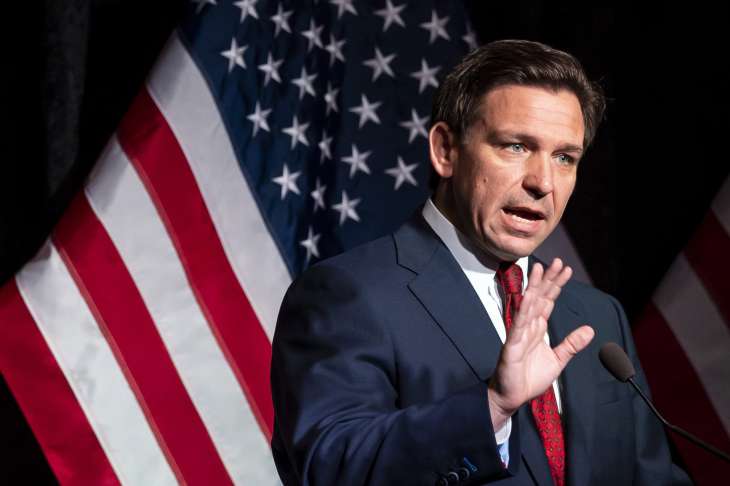 US 2024 Presidential Election: Florida Governor Ron DeSantis officially announced his intention to seek the 2024 Republican nomination for president. Although he was expected to make a flashy entry in the 2024 race for the White House, his Wednesday Twitter announcement was a complete failure and did little to allay concerns that Republican former President Donald Trump, 44, may May not be ready to challenge. ,
DeSantis announced his candidacy for the 2024 Republican presidential primary via an audio stream on Twitter Space, joined by the platform's CEO Elon Musk. However, his entry in the race encountered technical difficulties when Twitter's servers apparently could not handle the increase in traffic. The interview, which was intended to serve as the formal launch of DeSantis' campaign, was plagued by intermittent sound issues. For most users, it was practically impossible to hear the new presidential candidate in real time as the audio stream frequently crashed. Some users were unable to join or were removed from the broadcast.
Technical issue '#failuretolaunch'
The technical glitches and disruptions led to trending topics in the US including "#failuretolaunch," "crashed," and the hashtag '#DeSaster'. The opening moments of the conversation on Twitter Spaces featuring DeSantis, Elon Musk and moderator David Sachs were plagued by several audio and video glitches. Microphone feedback and intermittent interruptions disrupted the stream, leaving Twitter users frustrated.
DeSantis speech
During his campaign announcement, the Florida governor, in his opening speech to the audience, painted a dark picture of a country he said is headed in the wrong direction under Biden and urged Republicans to follow him.
"American collapse is not inevitable — it is a choice. And we must choose a new direction — a path that will lead to American revitalization," DeSantis said on the glitchy stream of Twitter, running through his conservative achievements. "I am running for President of the United States to lead our great American comeback," he said during an event with owner Elon Musk and tech investor David Sachs. "But we know our country is headed in the wrong direction." going in. We see it with our eyes. And we feel it in our bones."
"I have this pledge to you: If you nominate me you can set your clock at high noon on January 20, 2025 as on the west side of the US Capitol, I will take the oath of office as the 47th President. United States," DeSantis said. CNN quoted DeSantis as saying, "No excuses, I'll get the job done."
The governor of Florida, who received a decisive boost from Trump during the 2018 primary, has not criticized Trump directly, except in an implicit jab that has become a staple of his pre-campaign rhetoric. "There is no substitute for victory," said the governor, who filed with the Federal Election Commission earlier on Wednesday. "We must end the culture of defeatism that has infected the Republican Party in recent years."
"Even my worst critics in Florida will acknowledge when I tell people I'm going to do something," DeSantis said. "I don't make promises or say I'm going to do something lightly."
The final Republican nominee is expected to face Democratic President Joe Biden on the November 2024 general election ballot. DeSantis joins a field that also includes former UN ambassador Nikki Haley, Sen. Tim Scott of South Carolina, former Arkansas governor Asa Hutchinson and the biotech. Entrepreneur Vivek Ramaswamy. Former Vice President Mike Pence is also being considered as a possible presidential candidate, but has not yet announced a bid.
DeSantis' Republican opponents were ruthless
Musk said the online event began with technical glitches that were caused by "strained" servers because so many people were trying to listen to the audio-only event. After more than 20 minutes passed past the scheduled start time, users were kicked off, with microphones listening to feedback and music holding up and dealing with other technical problems.
"Soft launch failed? Checking. Failed announcement? Double checking. We're looking forward to a failed Ron DeSantis campaign," said Mark Harris, chief strategist for Haley's super PAC.
Trump went further: "Wow! The launch of DeSanctus TWITTER is a disaster! His entire campaign would be a disaster. Watch!" he wrote on his social media site.
DeSantis' campaign raises $1 million online
Nevertheless, DeSantis' campaign said it raised $1 million online in the first hour after the announcement. When asked about the technical difficulties, DeSantis said in a later interview on Fox News, "We had a huge audience." "It was the biggest they've ever had. It broke the Twitter space. We're really excited about the excitement.
DeSantis, who likely could not have become governor of Florida without Trump's support, has adopted the former president's fiery persona, his populist policies, and even some of his rhetoric and mannerisms. Yet DeSantis has one thing his opponent does not: a credible claim that he could be more elected than Trump, who faces a number of legal threats, including criminal charges in New York, and who has won three consecutive terms. Presided over Republican defeat in national elections.
DeSantis, just six months earlier, won his re-election in Florida by an astonishing 19 percentage points – even as Republicans struggled in several other states. He also scored several major policy victories during the spring session of the Republican-controlled Legislature.
(with AP inputs)