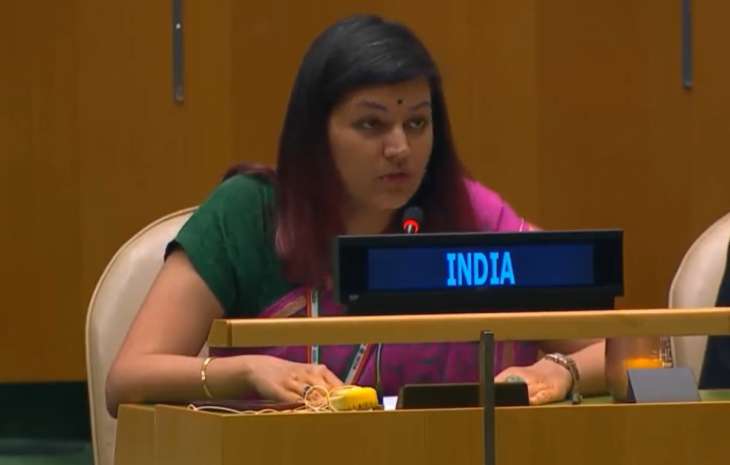 Exercising India's Right of Reply (RoR) at the 78th Session of the United Nations General Assembly, First Secretary at UN for the second UNGA committee Petal Gehlot on Sunday lashed out at Pakistan for becoming a "habitual offender" of misusing multilateral forums to peddle "baseless and malicious" propaganda and called out the human rights abuses against minorities in the country.
"As a country with one of the world's worst human rights records, particularly when it comes to minorities and human rights, Pakistan would do well to put its own house in order before venturing to point a finger at the world's largest democracy. A glaring example of the systemic violence against minorities in Pakistan was the large-scale brutality perpetrated against the minority Christian community in Jaranwala in Pakistan's Faisalabad district in August 2023, where a total of 19 churches were gutted and 89 Christian houses were burnt down," said Gahlot in a seething attack on Pakistan's human rights records.
She also highlighted that the Ahmediya community in Pakistan are suffering under similar fate and that the condition of women belonging to minority communities in Pakistan notably Hindus, Sikhs and Christians remains deplorable.
"According to a recent report published by Pakistan's own Human Rights Commission, an estimated 1,000 women from minority communities are subjected to abduction, forced conversion and marriage in Pakistan every year. Pakistan has been the home and patron to the largest number of internationally proscribed terrorist entities and individuals in the world," said the First Secretary.
She also called on Pakistan to take action against the perpetrators of the deadly Mumbai attacks in 2008, stop cross-border terrorism and vacate Indian territories under its "illegal and forcible" occupation. She also asked Pakistani authorities to halt grievous human rights violations against minority communities.
The Kashmir issue
Reiterating that Jammu and Kashmir as well as Ladakh are integral and inalienable parts of India, Gahlot remarked that Pakistan has no locus standi to comment on New Delhi's internal matters given the "glaring" examples of violence against minority communities there.
"Pakistan has become a habitual offender when it comes to misusing this august forum to pedal baseless and malicious propaganda against India. Member states of the United Nations and other multilateral organizations are well aware that Pakistan does so to deflect the international communities attention away from its own abysmal record on human rights," said Gahlot in a seething attack on Islamabad's human rights records.
On Friday, Pakistan's caretaker prime minister Anwaar-ul-Haq Kakar raised the Kashmir bogey in his speech at the UNGA, saying that there would not be peace between New Delhi and Islamabad unless the Kashmir issue is resolved. India has repeatedly raised its concern over Pakistan's support of cross-border terrorism and has asserted that terror and talks cannot go together. India has also provided evidence at various international forums of Pakistan's support for terrorist groups.
Pakistan's human rights records
This comes over a month after several churches, along with the house of a Christian cleaner, were vandalised and set ablaze in the Jaranwala town of Faisalabad district by an angry mob over claims of 'desecrating the Holy Quran'. Over 130 people were arrested in connection with the incident.
Residences of members of the Christian community were also attacked by the mob, causing thousands of policemen to be deployed in the area to help establish law and order. The district administration also imposed Section 144 to prevent any kind of assembly.
Additionally, the Ahmadiyya community, one of the vulnerable communities in Pakistan, saw yet another example of persecution with the demolition of the minarets of one of the community's worship places in Punjab province in July.
Earlier this year, the Human Rights Commission of Pakistan (HRCP) noted an alarming surge in attacks against the Ahmadi community members in Punjab province, including persecution by civil administration in several districts.
ALSO READ | Pakistan: 95 million people living under poverty as living standards fall, reveals World Bank
ALSO READ | India thrashes Pakistan's Kashmir bogey at UNGA, calls for vacating areas under illegal occupation