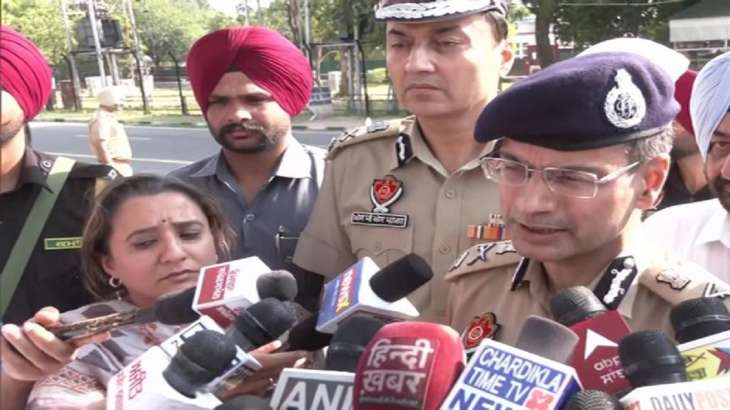 Amritpal Singh arrested Khalistan supporter and 'Waris Punjab De' chief Amritpal Singh came to the fore after Punjab Police created a pressure situation by conducting extensive raids, Director General of Police (DGP) Gaurav Yadav said on Tuesday (April 25). Punjab Chief Minister Bhagwant Mann held a review meeting with the officers of Punjab Police yesterday.
"CM held a law and order review meeting with Punjab Police officials. The operation which successfully nabbed NSA (National Security Act) detainees recently was reviewed. Officers doing a good job were felicitated by the CM Was motivated and encouraged," the Punjab DGP told reporters after the meeting. Yadav said that overall upgradation, technological upgradation and future roadmap were also discussed.
The DGP said, "The CM appreciated the role of the Punjab Police in maintaining peace in Punjab without firing a single bullet or causing any loss of life or property. Punjab Police is committed to maintaining peace and harmony in the state." "
When asked why Amritpal Singh was not arrested had he surrendered, the Punjab DGP said, "He was arrested. That is, he was arrested."
Read also: Khalistani sympathizer Amritpal Singh arrested; Locked in Dibrugarh Jail. what do we know so far
On the incident of sacrilege at a gurudwara in Morinda, he said, "The sacrilege is very unfortunate. The person who did it has been arrested. If there is any conspiracy, we will expose it thoroughly." After a month-long chase, pro-Khalistan activist and 'Waris Punjab De' chief Amritpal Singh was arrested by the Punjab Police in Moga on Sunday and later shifted to Assam's Dibrugarh jail.
The self-styled preacher was on the run from the Punjab Police since March 18. Nine associates of Amritpal, who were arrested earlier, were also lodged in Dibrugarh jail. Earlier on Sunday (April 23), Amritpal was arrested from a gurdwara in Punjab's Moga district and allegedly addressed a gathering before his arrest. According to officials, the arrests have been made with the joint efforts of the Punjab Police and central intelligence agencies.
Hardline preacher Tarsem Singh's father said Amritpal was working to save people from drug menace in the state. We will fight the case. The whole community should fight it. He was working to save people from drug menace, for this we have been given a proposal…" Amritpal's father Tarsem Singh told the media.
Amritpal Singh's mother Balwinder Kaur said, 'We saw the news and came to know that he has surrendered. I felt proud that he has surrendered like a warrior…we will fight the legal battle and we will also go and meet him at the earliest. ,
Earlier in March, supporters and associates of pro-Khalistan activist Amritpal Singh were shifted out of Punjab after central intelligence agencies raised concerns over a possible jailbreak and a repeat of the Ajnala incident. Earlier on Sunday, the Inspector General of Police (IGP) of Punjab said that National Security Act (NSA) warrants had been issued against Amritpal Singh and those warrants have been executed this morning. This morning at Gaon Road," said Sukhchain Singh Gill.
He said that in a joint operation of Punjab Police and Intelligence Wing, the Khalistan supporter and radical preacher has been arrested. Amritpal Singh has been sent to Dibrugarh, Assam and further action will be taken in the matter as per law and order.
A warning has been issued against those elements who are trying to endanger the peace and harmony of the state. A joint operation was launched by the Intelligence Wing of the Amritsar Police and the Punjab Police. He was located at Gaon Road based on operational inputs by the Punjab Police. Police did not enter Gurdwara Sahib to maintain sanctity. He has been taken to Dibrugarh under NSA…", the IGP said.
Earlier, the hardline leader was declared a "fugitive" as he was on the run in early March. The action came nearly three weeks after Amritpal's supporters stormed the Ajnala police station in Amritsar on 23 February, demanding the release of one of his aides, Lovepreet Toofan.
(With ANI inputs)
Read also: AAP govt committed to peace, security in Punjab: Arvind Kejriwal after Amritpal Singh's arrest