Actress Priyanka Chopra Jonas shared that she misses her American pop star husband Nick Jonas at the premiere of "The Matrix Resurrection". Priyanka posted several pictures in which she posed with 'papa' Kevin Jonas, 'mama' Denise Jonas and her mother Madhu Chopra on a private plane. His pet puppy Diana was also seen with him.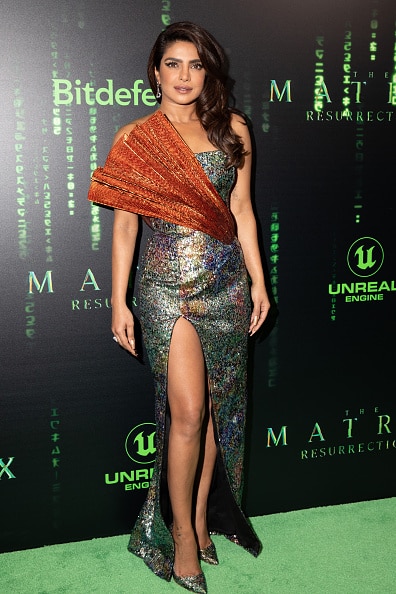 She tagged the location as San Francisco, where she attended the premiere of The Matrix Resurrection. "Crew!! I'm so grateful to my family. Thank you all for being a part of this wonderful moment with me. My team without whom I would never have been able to do it. Grateful. Missed you @nickjonas Happy birthday Ho @divya_jyoti," she wrote as the caption.
Priyanka Chopra turned heads on the red carpet as she attended the premiere of The Matrix Resurrection in San Francisco. The 39-year-old actress wore a dazzling strapless gown with a thigh-high slit, her dress flaunting red appliques on the bodice.
IN PICTURES: Priyanka Chopra stuns on the red carpet at the Matrix Resurrection premiere
Earlier, the actress had called her 'Nick Jonas' wife' in a news article. She asked for an explanation as to how this could still happen to women.
Priyanka shared screenshots of the article on her Instagram Stories and questioned whether she should add her IMDb link to her bio.
Priyanka shared the article read: "Nick Jonas' wife shared…"
It quoted him talking about his co-star Keanu Reeves on Good Morning America.
Elaborating on this, Priyanka said: "Very interesting that I am promoting one of the most iconic film franchises of all time, and I am still referred to as the 'wife of … "
Tagging her husband Nick Jonas, the actress said: "Please explain how this still happens to women? Should I add my IMDb link to my bio?"
,