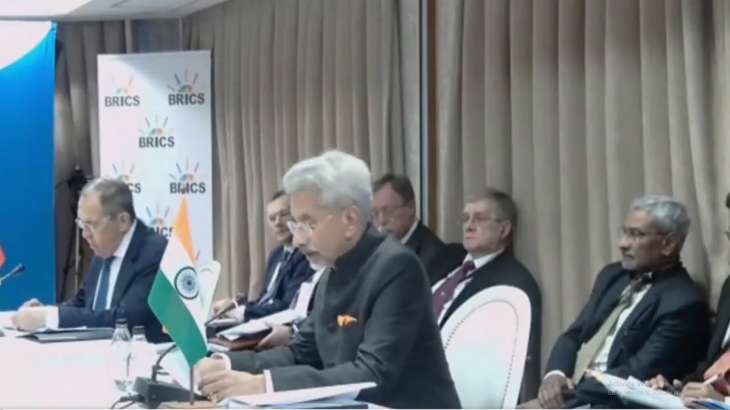 BRICS Meet 2023: External Affairs Minister Dr S Jaishankar on Thursday met his counterparts from the BRICS economic bloc of developing countries in Cape Town, South Africa for discussions to "exchange views" on major geopolitical issues including the war in Ukraine. Started with
In his opening remarks at the BRICS foreign ministers' meeting in Cape Town, Jaishankar advocated a multipolar and rebalanced world.
"…the global environment today demands that we, the BRICS nations, approach major contemporary issues seriously, constructively and collectively. Our gathering should send a strong message that the world is multipolar, that it is re-balancing And it's the old ways." Can't address new situations," he said.
Shadow of Ukraine war on BRICS
Most of the BRICS countries differ significantly from the position of the US and its Western allies on the Ukraine war. Speaking before the meeting, South Africa's ambassador, Anil Sookal, referred to the West's military aid to Ukraine as one of the things "fueling the conflict".
When asked about his reaction to Western "attempts" to transfer arms to Ukraine, Soukal said, "Any effort that fuels the conflict does not solve the problem."
"We do not know of any global conflict that has been resolved through war," he said. "All this causes more pain and suffering and, as BRICS countries, this is what we are saying: let's focus on finding peaceful solutions to challenges rather than fueling conflict."
What is brix?
The BRICS block is made up of Brazil, Russia, India, China and South Africa. Thursday's foreign ministers' meeting is a rehearsal for a larger BRICS summit in Johannesburg in August.
Putin was invited
Russian President Vladimir Putin has been invited to attend the summer summit, but it is unclear whether he will attend. A visit by the Russian leader would put enormous diplomatic pressure on South Africa. The country is a signatory to the International Criminal Court's treaty, which has issued an arrest warrant for Putin on war crimes charges for kidnapping children from Ukraine.
South Africa has not clearly stated its position on the execution of the warrant. Rather, the government has said it is seeking legal advice on its options, a move seen by critics as an attempt to shirk its clear obligation to arrest Putin as a signatory to the international court's treaty. .
Allowing Putin to travel freely for the summit could further strain South Africa's ties with the West following US allegations that South Africa provided Russia with weapons for its war in Ukraine.
South Africa has denied the allegation.
Russian Foreign Minister Sergei Lavrov held official talks in at least three African countries on his way to South Africa, and his participation was apparently due to the BRICS talks taking place at a luxury Cape Town hotel that looks out over the South Atlantic Ocean .
South Africa's Foreign Ministry said Chinese Foreign Minister Qin Gang, who was expected to attend, sent his deputy, but all other foreign ministers were present.
The expansion of the BRICS bloc, and with it the potential strengthening of Russian and Chinese political and economic influence, is a major topic of discussion at both the foreign ministers' meeting and the main BRICS summit in August.
Sooklal said that more than 20 countries had requested to join the BRICS bloc "formally or informally", among them Saudi Arabia, Iran and the United Arab Emirates, which submitted official requests.
(with AP inputs)
Also read – US accuses Chinese fighter jet of 'aggressive' act near its aircraft in South China Sea; Beijing Responds