A five-day Inter college student exchange program was organized by Poornima College of Engineering in association with Scholars Institute of Technology and Management, Guwahati, Assam. Under this, 14 students and four faculty members of students were exposed to the local language, culture, tourism, music and local sports of Rajasthan in Jaipur.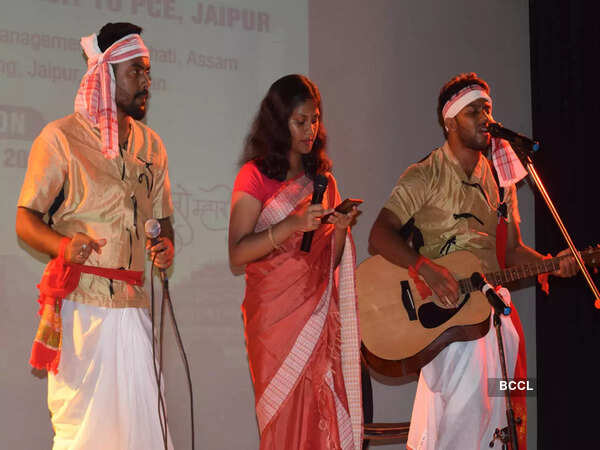 Students of Assam performing at the closing ceremony
The students from Assam visited the historical monuments of the city to explore the architectural marvels and know more about the city's cultural heritage. They visited Albert Hall, Jantar Mantar, Hawa Mahal, City Palace, and Amer Mahal. During this, they also enjoyed the traditional and famous dishes of Rajasthan under the 'Street Food Jayka'.They also got to interact with the local students and exchange their ideas. During the interaction they also talked about the culture, history, traditions and food of Assam and also gave a presentation on the same. Bijendra Kumar Sharma, joint registrar, Cooperative Department, Government of Rajasthan was the chief guest of the inaugural function of this program. He emphasized the importance of discipline among the youth and also gave information about the culture of India.
Dr Manoj Gupta, Pro President, Poornima University, said, "It's a great opportunity for the students of both the states of Rajasthan and Assam to know about each other's culture." The five-day visit concluded colourful closing ceremony where students of Rajasthan and Assam gave dance performances, portraying the cultural richness of Rajasthan and Assam.