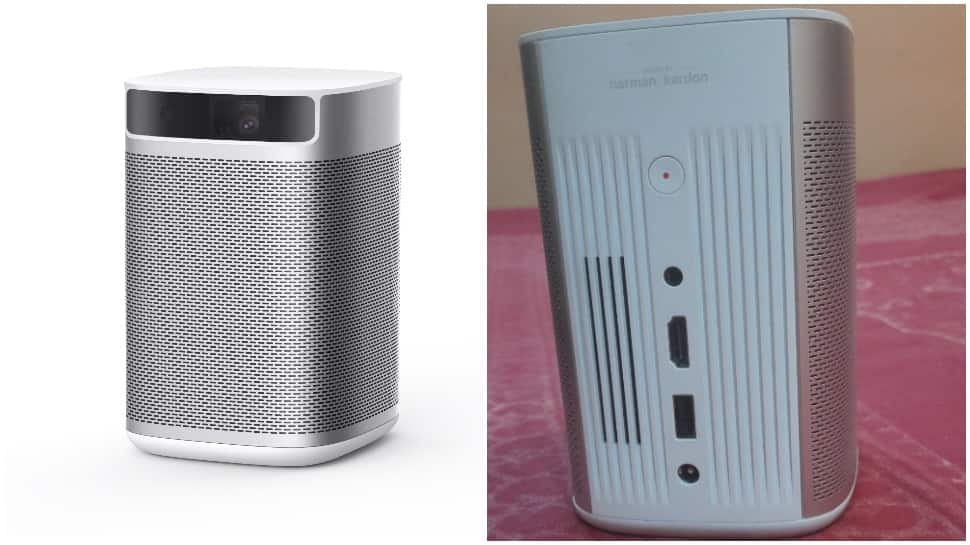 Over the years, the shape and size of projectors have changed. Now, they've reached a level where they're no bigger than a jar of chocolate and far sleeker than the ones we used to attach to ceilings in classrooms. The new, all-improved XGIMI MoGo Pro is a positive step in the same direction where you actually start thinking about expanding your buying power beyond the usual Rs 25,000 to Rs 30,000 range.
I used it for a couple of weeks during which IPL, T20 World Cup and a live DJ event took place in different parts of the world. I saw them all on my bedroom wall, which isn't big enough to test its 300 ANSI lumens of brightness, but not small enough to measure pixilation.
Weighing in at 900 grams, it appears more like a silver-painted brick, but projects fairly good HD footage. I decided to watch some of Badshah's songs on YouTube in 1080p HD for their bright and warm color backgrounds. Frankly, I even played Dolby Atmos 4K videos on it, mostly to realize that a pink-ish wall might not be a good idea for a good projector, also because the footage burns. The device has decent picture quality, but it doesn't control contrast the way it should, automatically.
But it is easy to navigate and supports most of the major streaming apps like Netflix, Amazon Prime Video, Disney+ Hotstar, etc. A good Wi-Fi is definitely a major requirement.
External speakers can be added but they don't feel like the in-built ones that seriously need a voice boost. A 55 watt machine can certainly pitch for more. If you have a nice, spacious pad it's a good idea to add speakers before the party.
If the original video was shot in HD 1920 x 1080 resolution can be really good to watch. It has one DC, one HDMI and one USB 2.0 port which can meet most of your needs. I mean, simplicity is mostly good with tools you're going to use every day, no?
Additional Bluetooth connectivity is also available.
Let's think, why do we need a projector? To experience the enormity of a situation, right? For him, it really fits.
Priced at Rs 66,000, the XGIMI MoGo Pro is almost twice the cost of an overhead projector, but it's also double the fun. It may seem like a luxury item in the beginning, but you wouldn't even know when it has replaced your home TV, iPad, and tablet!
,