In the serene landscape of Tripura, a remarkable administrator named Sonal Goyal, an Indian Administrative Service (IAS) officer, has left an indelible mark through her tireless efforts and transformative initiatives. With a vision to uplift women and empower the community, Goyal's tenure in Tripura is a testimony to his exceptional leadership and dedication to public service. During her eventful posting in Tripura, Sonal Goyal IAS held various important roles including Assistant Collector and District Magistrate. Recognized for her unwavering commitment to policy formulation and responsible enforcement, she quickly earned accolades and accolades in Gomti district.
Goyal's foremost focus was on the empowerment of women and girls, recognizing them as pillars of progress and development. Under her dynamic leadership, she launched the groundbreaking 'Nandini' campaign, which aimed to address the challenges faced by working women. As part of this initiative, crèches were set up to provide a safe and nurturing environment for children of working mothers. This effort not only supported the professional aspirations of women but also ensured the well-being and future prospects of their youth. A champion of education, Goyal worked tirelessly to raise the status of Anganwadi centers in the district. She strongly advocated for the rights of girls to access these cantors, playing a key role in breaking down gender barriers and promoting inclusivity. Her efforts were aligned with the Beti Bachao Beti Padhao campaign, a nationwide effort aimed at ensuring the welfare and education of the girl child.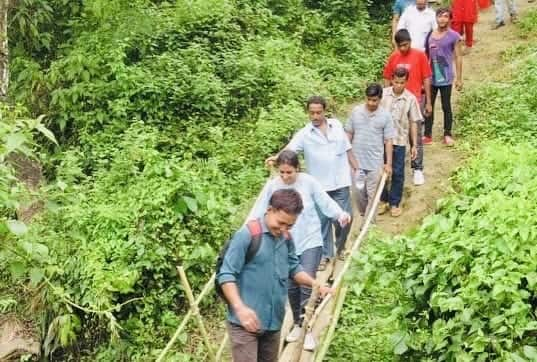 Sonal Goyal's extraordinary contribution has not gone unnoticed as she has received several prestigious awards and honors for her remarkable work. In recognition of his exemplary efforts in the field of rural employment generation, he was awarded the National MGNREGA Award by the Ministry of Rural Development, Government of India. In addition, her 'Nandini' campaign was recognized as a Best Practice on Civil Services Day by the Government of Tripura, demonstrating the impact of her innovative approach. Apart from her remarkable initiatives, Sonal Goyal has also earned the respect and admiration of the local community through her compassionate and empathetic approach. During her tenure, she connected with the people, listened to their concerns and tried to address them effectively.
His proactive approach to governance and commitment to public welfare became the hallmark of his tenure in Tripura. As she bids adieu to Tripura and embarks on new endeavours, IAS Sonal Goyal leaves behind a legacy of empowerment, progress and inclusive development. His remarkable journey serves as an inspiration for aspiring civil servants and a testament to the transformative power of dedicated leadership. Through her unwavering commitment, Sonal Goyal has transformed countless lives and emerged as a beacon of hope for a brighter and more empowered future in Tripura.