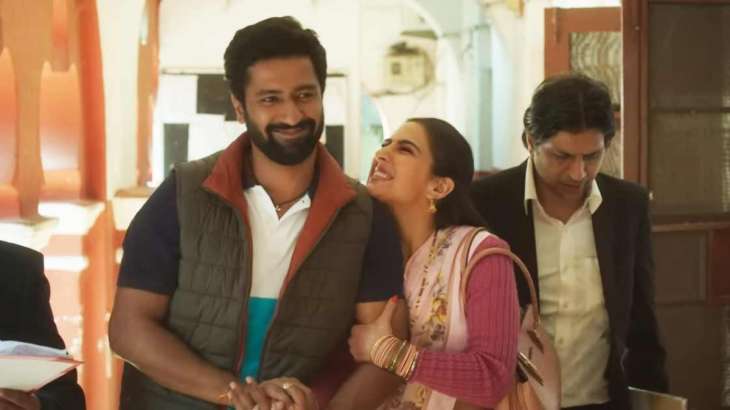 Vicky Kaushal on Wednesday said he always knew that a "simple story" like "Zara Hatke Zara Bachche" would connect with people, which is why the love the film is garnering theatrically is a "number one" for the team. beyond'. Best known for "Luka Chuppi" and "Mimi", directed by Laxman Utekar, Vicky and Sara Ali KhanThe -starrer film is slated to release in theaters on June 2. It has earned Rs 30.60 crore in India.
Vicky said the film, about a couple from Indore struggling for privacy in a joint family setting, was narrated to them during the second wave of the coronavirus pandemic when the theatrical release was not doing well.
"The film was narrated to us right after the second wave of COVID when the situation was much more tense. It was like, 'What will happen to Bollywood? What kind of films are coming, not coming?' Then such a simple story came to me. I knew it would connect with people," said Vicky Kaushal.
The actor said that despite his belief that the family film would connect with the audience, the team was unsure at times. "There is also a lot of mind game in between that if this film is released and works, then only that kind of film will work and the rest will not work. In the midst of all this, perhaps we forget that we started with this thought. Was that this film will connect with the people.
"Over the last five days, we have realized that we will see people connect with all our meetings. Now, when people are loving it, it is beyond numbers for us. Families coming and watching the film That's the real joy. Now that the film has hit the cinema halls, we are here to thank you all."
Vicky Kaushal said that Utekar was "most convinced" about the film's theatrical potential. "It is more a victory for the spectators than for us. They have reiterated that only their strength matters," he added.
Expressing her gratitude towards the audience and her producer Dinesh Vijan, Sara termed "Zara Hatke Zara Bachke" as her second debut as it is her first theatrical release after her 2020 film "Love Aaj Kal".
"At times during the pandemic I often wondered, 'Will movies be released in theaters like before?' 'Like, will the day come again when I see myself on the big screen?' I believe in signs and positivity. I was in 'Kedarnath' and (now) Dino sir, he is taking this film to the big screen.
I am very grateful to him. To be honest, this is my debut again as it has been half a decade," he said, adding "thanks to the audience for accepting the film".
Sara, 27, thanked her director for giving her the opportunity to play Saumya and co-star Vicky Kaushal for being "the most wonderful partner". She said, "It's been wonderful working with you. I don't want to talk about how talented you are, because everyone knows that. You're so humble and gracious."
Co-produced by Maddock Films and Jio Studios, "Zara Hatke Zara Bachke" also stars Inaamulhaq, Sushmita Mukherjee, Neeraj Sood, Rakesh Bedi and Sharib Hashmi.
Read also: Akshay Kumar, Ananya Pandey to shoot at Red Fort for their next project. reports