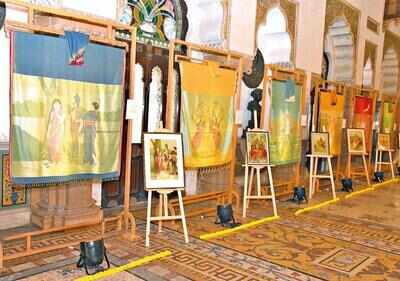 The exhibition titled Santati in the Durbar Hall of Laxmi Vilas Palace is a tribute to Mahatma Gandhi and Raja Ravi Varma.
Vadodara: Raja Ravi Varma, the legendary painter who painted the magic on canvas, sparked the imagination of a generation of artists and artisans across the country and continues to inspire decades to this day.
Among the many inspired are the textile artists Gaurang Shah and Lavina Baldota who recreated these paintings on Khadi sarees that are currently on display in the Durbar Hall of the Lakshmi Vilas Palace. Titled Santati, the exhibition displays various paintings of Varma on Jamdani sarees and the project, presented by the Abraj Baldota Foundation, is a tribute to the Father of the Nation Mahatma Gandhi and Raja Ravi Varma, the father of modern Indian art.
Twenty artists have recreated Varma's paintings on Jamdani sarees through intricate Jamdani hand-weaving and threads dyed in over 600 shades of vegetable colours. It took six months to two years to weave each sari. The Santati was unveiled by Sadhguru Jaggi Vasudev at the National Gallery of Modern Art, Mumbai on October 1, 2021, to commemorate the 150th birth anniversary of Mahatma Gandhi.
"India's textile industry and specialization in the field were the main reasons for the prosperity of the country in the ancient era. But under the colonial rule, the British destroyed the textile industry in India. Under Gandhi's Swadeshi movement, Khadi production was encouraged, helping Indians to gain their self-confidence and respect through self-reliance." He said that it showcases the power of Khadi in its journey from loom to luxury.
Radhikaje Gaikwad, a member of the royal Gaekwad family, also caught a glimpse of the artistic saris on Friday. "Maharaja Sayajirao Gaekwad opened the Durbar Hall 130 years ago for the public to see an exhibition of the paintings of Raja Ravi Varma. And years later, Varma's paintings are on display here. Women weavers are not usually seen, so it is good to see them trained and get opportunities," said Gaikwad.
FacebookTwitterLinkedinE-mail
,