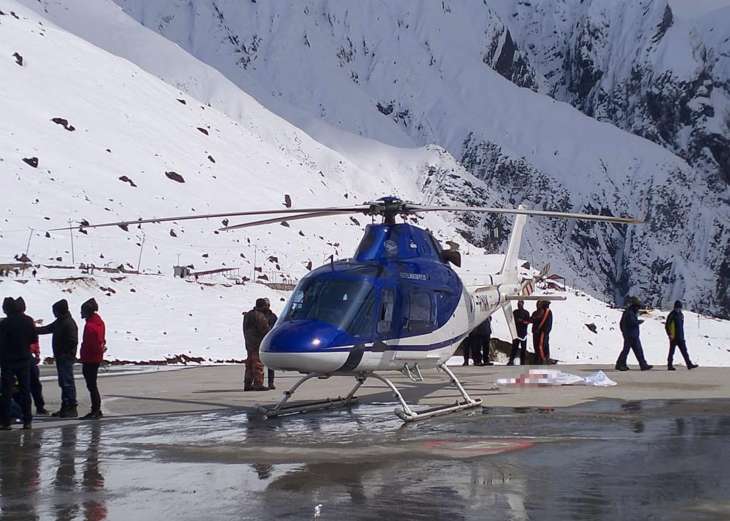 In a shocking incident, an official of the Uttarakhand Civil Aviation Development Authority died after being hit by the tail rotor blade of a helicopter in Kedarnath. Rudraprayag Superintendent of Police Visakha Ashok Bhadane said that the incident took place at the Garhwal Mandal Vikas Nigam helipad in Kedarnath.
The 35-year-old victim, identified as Amit Saini, was on his way to board the helicopter. According to Rudraprayag District Magistrate Mayur Dixit, he suffered serious neck injuries after being hit by the tail rotor of the helicopter and died on the spot.
Saini worked as a finance controller at the Uttarakhand Civil Aviation Development Authority and was part of the team that visited the helipad to inspect the arrangements for heli-services for the Himalayan temple that is slated to open on April 25.
District Disaster Management Officer Nandan Singh Rajwar said that the accident happened around 2.15 pm when the team was about to return after inspection. Amidst the intermittent rain and snowfall in Kedarnath, the officials are busy finalizing the arrangements for the Kedarnath Yatra.
Kedarnath yatra registration suspended
Earlier in the day, registration for the annual Kedarnath Yatra in Rishikesh and Haridwar was suspended till April 30 due to rain and snowfall in the upper reaches of the Garhwal Himalayas over the past few days. The holy shrine will be thrown open to the public on April 25.
Speaking to news agency PTI, Narendra Singh Kaviriyal, Additional Commissioner (Administration) of Garhwal Division and Additional Chief Executive Officer of Chardham Yatra Administration Organisation, said, "The registration of pilgrims for Kedarnath Yatra has been done in view of bad weather and heavy snowfall." . Suspended till April 30 in Rishikesh and Haridwar." He further said that the Uttarakhand government will take a decision in the interest of the devotees after reviewing the weather conditions in the coming days.
Read this also | Char Dham Yatra 2023: Portals of Yamunotri Dham opens on pious occasion of Akshaya Tritiya. WATCH
Read this also | Char Dham Yatra 2023: Uttarakhand government removes restriction on number of pilgrims per day