Kanpur: President in a rare soulful gesture
Ram Nath Kovind
On Sunday, he landed on the helipad near his native village Paraunkh and bowed down to his birthplace. He was accompanied by his wife Savita and daughter Swati.
Talking with the residents of a village Paraunkh
Kanpur Dehat
District, the President recalling his humble beginnings that his village was his homeland which catapulted him to the prestigious office of Rashtrapati Bhavan. "The inspiration of Paraunkh has taken me
high Court
To
Supreme court
To
Rajya Sabha
to Rashtrapati Bhawan," he said.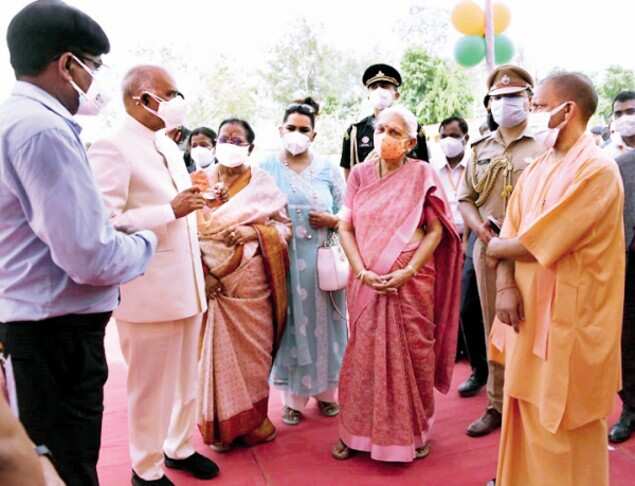 President Ram Nath Kovind, Governor Anandiben Patel & CM Yogi Adityanath in Paraunkh on Sunday
Chief Minister speaking on the occasion Yogi Adityanath He said, "The President has donated his lifetime earnings for the construction of Veerangana Jhalkari Bai Inter College and it helped Paraunkh make his mark. I also visited Pathri Devi Temple, where the President's father helped in its construction. The CM then announced the establishment of a medical college in Kanpur Dehat.
Speaking on the occasion, the President praised the culture of 'Matru Devo Bhava' (Mother is God), 'Pitru Devo Bhava' (Father is God) and 'Acharya Devo Bhava' (Teacher is God). "It is a tradition in my family that the oldest woman in the village is given the status of mother and the elderly men are given the status of father, irrespective of caste, class or sect. Today I am happy to see that this tradition continues."
"I am more than happy to see you. I never thought that a boy like me would get the privilege of serving the presidency but the credit goes to our democratic set-up, my village and your love and blessings. I am freedom fighters And I bow to the drafting committee of the constitution for their sacrifice and contribution.UP has given many prime ministers, but now the way is open for the people of UP to become the president after me.
While walking down the street of memories, he was happy to see the concrete houses in his village and Rohaniya Bazar. He also remembered his classmates, Jaswant Singh, Vijaypal Singh, Hariram, Chandrabhan Singh Bhadauria, Rajaram and Dashrath Singh. The President said, he studied with them and shared dreams together. "My friends and classmates have a special place in my life," he said.
The President also paid tribute to Ambedkar and visited Milan Kendra and Veerangana Jhalkari Bai Inter College and urged people to take the vaccine, which is a shield from coronavirus. He also promised to make arrangements for the travel of the people of Paraunkh. Rashtrapati Bhavan.
Chief Minister Yogi Adityanath said, "I congratulate the President on his first visit to his village. It is an ancient tradition that there is no alternative of 'Janani' and 'Janmabhoomi'. I have come to Paraunkh for the first time and here are the memories of the President.
.