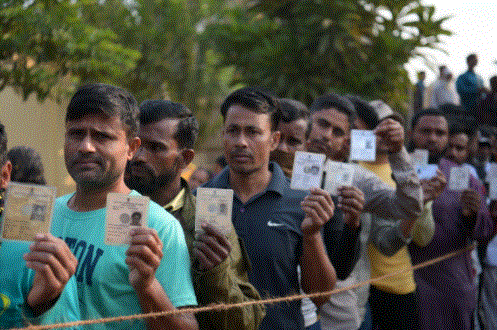 Agartala: The Tripura municipal elections were held amid allegations of violence and booth capturing with opposition parties demanding cancellation of the polls. The Election Commission of India said on Thursday that 81.52 percent voter turnout was recorded till 9.30 pm in the Tripura civic polls.
Refuting the allegations of opposition parties that the ruling BJP government resorted to open threats and attacks on candidates and polling agents, he said they were trying to gain public sympathy out of fear of defeat.
Rebel BJP MLA Sudip Roy Barman, however, came out in support of the opposition parties and was quoted by ANI as saying, "Such activities were bringing disrepute to the party. According to the police, the situation is under control and any action is being taken against the party." Extensive security arrangements have been made across the city to avoid any untoward incident."
Sub-Divisional Police Officer (SDPO) Sadar Ramesh Yadav told ANI, "The entire election process is going on peacefully and the media is keeping a close watch on the processes. Nothing is there. People are exercising their franchise. Trinamool One of the Congress leaders said that adequate security has been provided at his booth. Now a separate delegation sat on a dharna in front of East Agartala police station. We are not going to tolerate this and strict action will be taken against them if Section 144 is violated. will be processed. ."
Yadav reportedly said that the CPI(M) had also staged a sit-in in front of the West Agartala police station and the police took note of the party's complaints, adding, "The CPI(M) men told us about their problem, although the incidents happened in my jurisdiction." We noted their complaints and informed the police of that subdivision."
Yadav was speaking on the sidelines of a sit-in by Trinamool Congress supporters led by party leader Subal Bhowmik in front of East Agartala police station. The SDPO and the officer-in-charge of the police station tried to persuade them to lift the picket but failed. As a result, all 30 to 40 leaders were arrested.
Leftists have also staged a sit-in in front of West Agartala police station, as they were carrying red flags, shouting slogans, surrounded the police station. A senior CPI(M) leader Pabitra Kar told ANI, "Our polling agents, candidates have been forcibly thrown out of polling stations by BJP goons. We demand fresh elections where polling agents of any political party are allowed. Will not be given and only voting will take place. Employees are going to hold elections. I challenge Biplab Deb government to order such elections."
Tripura Left Front convener Narayan Kar said the security forces were not deployed properly despite the Supreme Court's direction. The Left Front demanded fresh elections to the Agartala Municipal Corporation and four municipal councils – Dharmanagar, Khowai, Belonia and Melaghar.
Meanwhile, ruling BJP MLA Sudip Roy Barman expressed his anguish over the conduct of elections and claimed that booths were being jammed and people from outside areas were being brought to the polling booths in urban local bodies.
According to State Election Commission (SEC) officials, 75.04 per cent of over 4.93 lakh voters exercised their franchise till 4 pm for the elections to 14 municipal bodies in Tripura.
The total number of candidates eligible for the election is 4,93,041 and with 2,43,249 male and 2,49,778 female voters in 14 urban local bodies where elections are being held from a total of 20 bodies.
The BJP has already won 112 of the total 334 seats in the Agartala Municipal Corporation (AMC) and 19 other civic bodies in the state unopposed. Polling was held in 222 seats of six nagar panchayats, seven municipal councils and AMC. Counting of votes will take place on November 28.
On Thursday, the Supreme Court directed the Union Home Ministry to provide two additional companies of Central Armed Police Forces (CAPF) for security of polling stations during Tripura civic polls.
The Supreme Court heard the petition of CPI(M) and Trinamool Congress Rajya Sabha member Sushmita Dev. It had earlier asked the Tripura Police to ensure that no political party is stopped from exercising its right to peacefully campaign for Thursday's municipal elections.
Similar directions were also given by the Tripura High Court, following petitions by the CPI(M).
98 arrested for election-related violence in Tripura
At least 98 people have been arrested on charges of election-related violence in the state as polling for the Tripura civic polls concluded on Thursday evening.
Speaking to reporters, VS Yadav, Director General of Police, Tripura Police said, "98 people were arrested for election related violence in Tripura today. This includes AITC, CPI(M), BJP and 41 outsiders for violating restrictions. people are involved."
He further said, "The pictures, videos and locations of violent incidents that took place across the state were not reported to the police or the State Election Commission in advance. Things first came in the media and after a long time, the authorities were informed. Accordingly, Action was taken."
(with agency input)