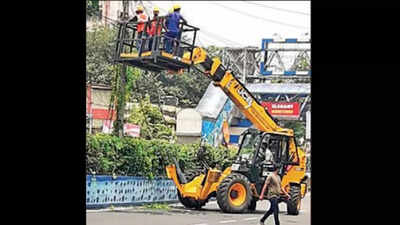 File photo of the ongoing cleanliness drive in the city
Kolkata: Due to Durga Puja, there will be no cable disturbance in many major areas of South Kolkata. Cable operators, multi-system operators and Internet service providers will carry out cleanliness drives in two stretches between Exide Crossing and Hazra Crossing along Ashutosh Mukherjee Road and between Purna Cinema and Lansdowne Market along Ramesh Mitra Road. The two parts together cover about 3 km.
"We will soon start work on both the parts and complete it by Durga Puja. We are about to complete another kilometer long stretch between Exide Crossing and Minto Park along AJC Bose Road, said Tapash Das, Joint Convener, All Bengal Cable TV and Broadband Operators United Forum.
The optic fiber cable and coaxial cable will be built along the two footpaths of Ashutosh Mukherjee Road like AJC Bose Road. The cables will be tied on a footpath of Ramesh Mitra Road. In the town, cables were wired together to run along the lamp post in the middle of the road.
The pilot project to shift the cable underground on Harish Mukherjee Road will also be completed before the puja. "The progress of work was hampered by the recent heavy rains. But we expect that as soon as the drought hits, we will start again," Das said.
Cables have already been prepared and arranged on Belvedere Road, Alipore Road, Judges Court Road, Baker Road and Parkside Road.
FacebookTwitterLinkedinE-mail
.