New Delhi: The corporate drama that has spread through BharatPe's board room doesn't seem to be over yet. It appears that co-founder Ashneer Grover may have stepped down, but is still invested in the events of the fintech company.
The latest round surfaced on LinkedIn when a person claiming to be a BharatPe employee complained about non-payment of salary for the month of March.
In a LinkedIn post, the IT colleague wrote: "Dear Suhail and Shashwat Sir, We have not received the salary for the month of March despite following up on email several times and visiting the office."
Tagging BharatPe CEO Suhail Sameer and co-founders Ashneer Grover and Shashwat Nakrani, the IT colleague wrote, "We were with BharatPe since the company started and now we are nowhere because of your internal politics."
This triggered a celebration of comments from various parties, the first one being that of Ashneer Grover. He commented: "Didn't -" His salary has to be paid before anything else.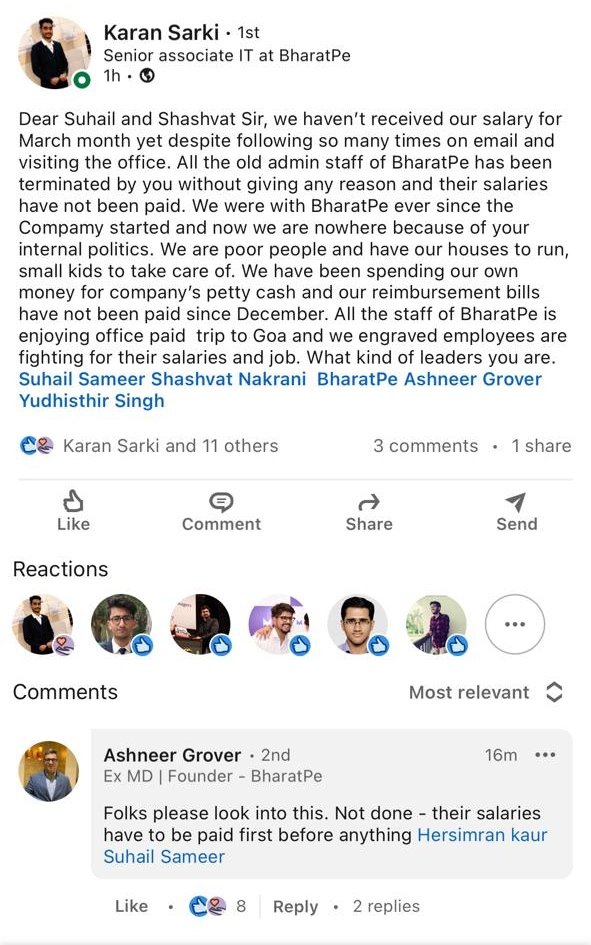 Ashima Grover, sister of Ashneer Grover, also commented on the post calling BharatPe's top management (allegedly targeting the current CEO) a "shameless bunch".
To which Suhail Sameer replied with a scathing note: "Tere bhai ne saara paisa chura liya (Your brother stole all the money). There is very little left to pay the salary."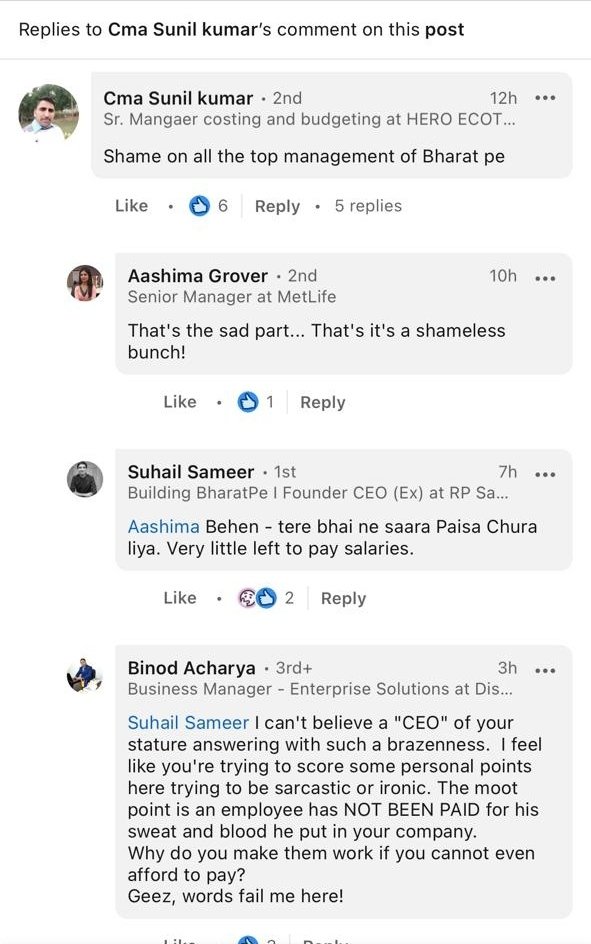 After Suhail targeted Ashneer, Ashima said on LinkedIn: "Oh really. But still, there is money left over for your ESOPs, bonuses, salary hikes, parties and offsite and not to forget paid media.
The comments haven't been removed or the post still hasn't been deleted. However, Suhail's comment to Ashneer's sister invited some criticism from other LinkedIn users.
Ashneer Grover and his wife Madhuri Jain have been accused of financial irregularities. Madhuri Jain was sacked as the controlling head of the company in February this year. Ashneer was removed from his posts in BharatPe in March this year.