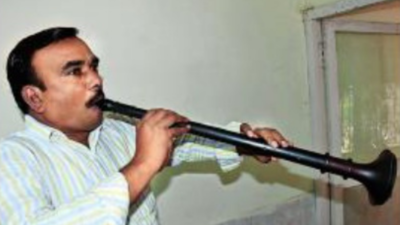 Artisans use a type of ebony wood that is 200 years old
Trichy: Narsingpettai Nagaswaram has earned the Geographical Indication (GI) tag under 'Class 15 musical instrument'.
The registry notification states that the unique feature of Nagaswaram is its production process – it is handmade unlike other machine-made ones in Narsingpettai village of Thanjavur.
The Geographical Indications Registry of the Government of India granted the recognition on the basis of an application by the Thanjavur Musical Instruments Workers Cooperative Cottage Industrial Society Ltd., P. Sanjay Gandhi, Public Prosecutor, Madras High Court, and Nodal Officer, Geographical Indications Registry of Products of the State Government.
The craftsmen at Nagaswaram choose wood wisely, a type of ebony, ensuring that it is 200 years old, and that does not absorb moisture. The top part has a metal staple into which a small metal cylinder is inserted to hold the reed mouthpiece.
Reeds are made from the leaves of a locally grown plant called 'nanal' (a variety of bamboo).
The instrument consists of a cylindrical body which is shaped like a bell at the bottom. It is this form that gives Nagaswaram its distinctive volume and captivating tone. The length of the instrument is two and a half feet. It is a double-reed wind instrument with a large twinkling bell.
In Narsingpettai, a village near Kumbakonam, artisans mastered the craft of making wooden tools from their predecessors. According to him it takes three days and three artisans to make one Nagaswaram. Each family makes 40 pieces a year.
However, he regrets that after all, only the artists are honored and not the artisans. Sanjay Gandhi said that the GI tag will now honor Nagaswaram artisans.
"It took more than eight years to get the tag. We provided all the information and historical evidence sought by the panel members. We have finally succeeded," he said.
Sanjay Gandhi, who specializes in Intellectual Property Rights, was instrumental in securing GI tags for 27 products in Tamil Nadu, of which 10 were from Thanjavur district.
Follow us on Social Media