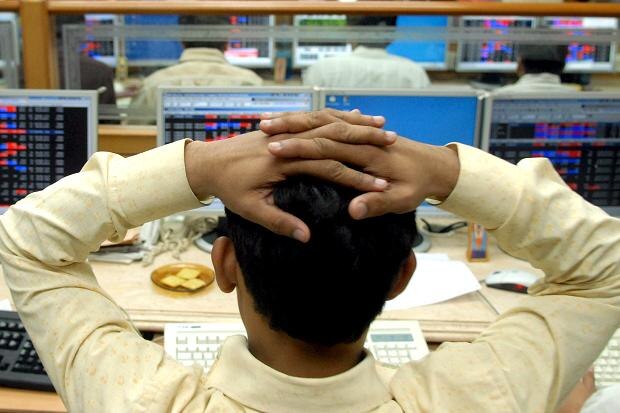 New Delhi: The day is actually turning into 'Black Friday' for the Indian stock markets as investors hit the panic button.
They have lost Rs 6.50 lakh crore in just two hours of trading session due to complete sell-off.
Investors' wealth fell by Rs 6.55 lakh crore to Rs 259.11 lakh crore from Rs 265.66 lakh crore a day earlier, according to data measured by BSE market capitalization.
The BSE Sensex lost 1,400 points during intra-day trade on Friday, while the NSE Nifty was trading below 17,100.
Major benchmark indices are witnessing a sharp decline as Sensex and Nifty are showing a fall of 2.36 per cent and 2.54 per cent respectively.
There was a negative sentiment in the Indian market on Friday due to weak global cues. Shares fell sharply as the new COVID version (b.1.1.529), also known as the South African version, shook investors' spines. Therefore, except the pharma sector in the domestic market, no sector is trading in the green.
Indian stock markets have been falling for the last two weeks, but the news of the new Kovid version has added to the crisis. The European Union has banned flights from South Africa. In view of the increasing cases of Kovid in many European countries, lockdown has already been imposed.
According to media reports, aberrant mutations in the B1.1529 variant lead to mutations that could potentially mean higher transmissibility and the ability to evade the vaccine. Scientists are equally concerned, and are talking about it as a potentially 'next delta' variant.
According to analysts, the market has been consistently up and thus looks extremely expensive. Any such major fall in the market gives investors a buying opportunity. The biggest impact of this fall was on midcap and smallcap stocks. The apprehension of the market can be gauged from the fact that the Indian Volatility Index (India VIX) has increased from 15.45 per cent to 19.47 per cent.
Foreign investors have also been selling since the beginning of the current financial year, especially in the secondary market (stock exchanges). At the same time, due to increase in inflation, interest rates in the market can also increase. RBI's Monetary Policy Committee meeting is to be held from December 6 and the RBI governor will clarify his stand on interest rates on December 8.
,