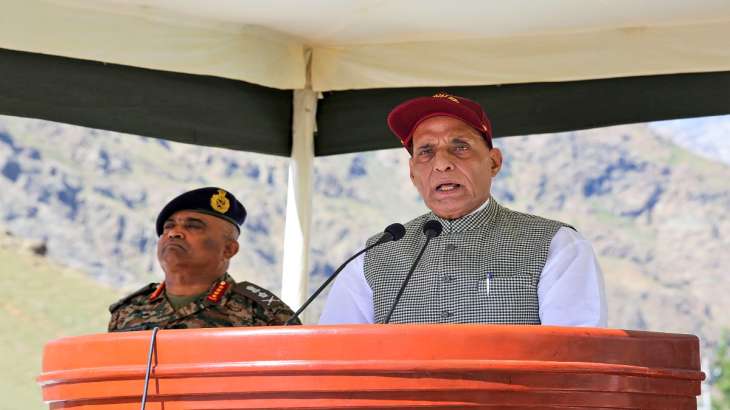 Defence Minister Rajnath Singh will inaugurate 90 infrastructure projects to the nation on Tuesday (September 12), built at a cost of Rs 2941 crore.
At a ceremony organised by the Border Roads Organisation at Devak Bridge on Bishnah-Kaulpur-Phulpur Road in Jammu & Kashmir, the Defence Minister will inaugurate 22 Roads, 63 Bridges, Nechiphu Tunnel in Arunachal Pradesh, two airfields in West Bengal.
According to the officials, these infrastructure projects have been constructed under challenging weather conditions, at most inhospitable terrain locations.
Out of these projects, 11 have been constructed in Jammu & Kashmir, 26 in Ladakh, 36 in Arunachal Pradesh, 5 in Mizoram, 3 in Himachal Pradesh, 2 each in Sikkim, Uttarakhand and West Bengal and 1 each in Nagaland, Rajasthan and Andaman & Nicobar Islands.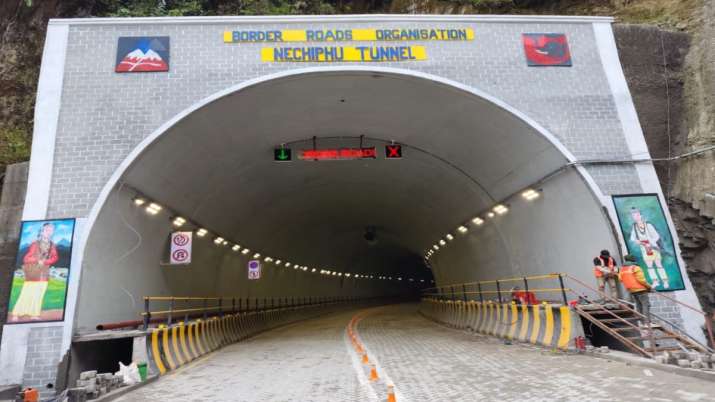 "The main focus is state of the art 422.9 meter long, Class 70 RCC Devak Bridge on Bishnah-Kaulpur-Phulpur Road in Jammu & Kashmir. This bridge is of strategic importance to our Defence Forces and will facilitate speedy induction of troops, heavy equipment and mechanised vehicles to forward areas and will also boost socio-economic development of the region," officials said.
Another important infrastructure that will be inaugurated is the 500 m-long Nechiphu Tunnel on Balipara-Charduar-Tawang Road in Arunachal Pradesh.
"This tunnel, along with under construction Sela Tunnel will provide an all-weather connectivity to the strategic Tawang Region and will be beneficial to both the armed forces deployed in the region and the tourists visiting pristine Tawang," the officials said.
Reconstructed and revamped Bagdogra and Barrackpore Airfields in West Bengal are also going to be inaugurated tomorrow. These airfields have been successfully reconstructed by BRO at a cost of Rs 529 crore.
"These airfields will not only improve the defensive and offensive architecture of Indian Airforce along Northern Borders but will also facilitate commercial flight operations in the region," they said.
The Defence Minister will also lay the foundation stone of Nyoma Airfield in Ladakh virtually.
Nyoma Airfield in Eastern Ladakh will be developed at a cost of Rs 218 Cr for wide-ranging strategic air assets. The construction of this airfield will tremendously boost the air infrastructure in Ladakh and augment the IAF capability along our Northern Borders.
"BRO's surge in road and bridge construction in the last 3 years has led to the completion of many critical and strategic projects which has bolstered our defence preparedness vis a vis that of our adversaries China and Pakistan. The BRO has also connected the farthest and most remote villages of the country like Huri Village in Arunachal Pradesh to the mainland," the officials said.