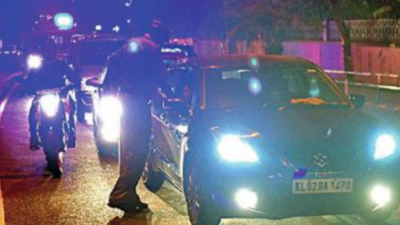 Police check vehicles under night curfew in front of the Secretariat in Thiruvananthapuram on Thursday night
THIRUVANANTHAPURAM: Night curfew and partial restrictions, including mass gatherings, came into effect from Thursday night. The night curfew is between 10 pm and 5 am and during this time people going out will have to give a self-declaration. Night curfew has been imposed till January 2.
Restrictions have been imposed to prevent mass gatherings during New Year's celebrations as experts have said it will accelerate the spread of the pandemic. With the WHO itself warning of a possible third wave, the state government has decided to tighten the grip with adequate precautions.
Police have increased vigil by checking vehicles at night and raiding hotels and other clubs to prevent mass gatherings. All hotels, clubs, restaurants, shopping malls, public parks and other places where New Year celebrations are planned have been asked to end all festivities before 10 pm on Friday. All cinema shows after 10 pm have also been canceled till January 2.
Even gatherings at religious places and places of worship have been banned after 10 pm. Sabarimala and Sivagiri pilgrimages have been exempted from this.
Meanwhile, Education Minister V Shivankutty has said that the situation has not come to the closure of schools. However, the start of full classes will be decided only after a review of the Omicron situation.
At present the situation in the state is under control and there is no need to panic. The government was exploring the possibility of starting full classes when schools reopen after the Christmas holidays. However, now the government has withdrawn this decision.
Health Minister Veena George has said that 63 omicron cases have been reported in the state so far. People visiting crowded places like cinema halls, malls, hotels and places of worship should be very careful. There are reports that the Omicron variant has a much faster propagation rate as compared to the delta variant. Hence, people should ensure social distancing, wearing of masks and proper use of sanitizers, he said.
FacebookTwitterLinkedinE-mail
,