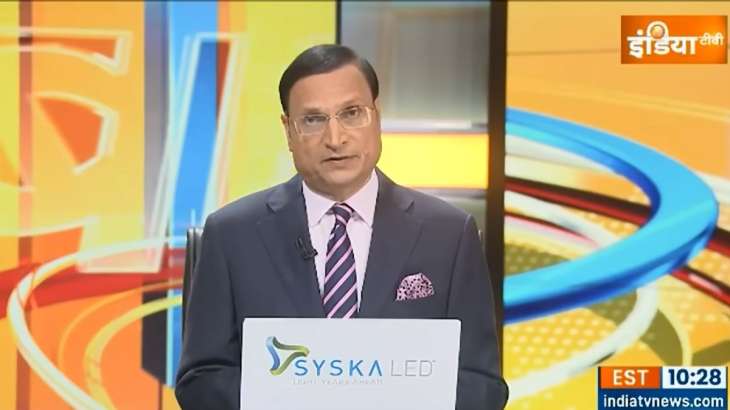 In a blistering interview to India TV, international wrestling referee Jagbir Singh revealed how he witnessed Wrestling Federation of India chief Brij Bhushan Sharan Singh inappropriately touching female wrestlers during tournaments abroad. The controversial WFI chief was challenging women wrestlers to bring witnesses to prove their allegations and had offered to hang themselves if proved. Jagbir Singh, who has been questioned by the Delhi Police, told India TV that he saw Brij Bhushan touching female wrestlers inappropriately several times. Delhi Police has so far recorded statements of 125 witnesses in four states. Jagbir Singh told India TV that he saw Brij Bhushan inappropriately touching a heavyweight female wrestler during a photo session after the trials of the Senior Asian Wrestling Championships in Lucknow on March 25 last year. The wrestler said, stunned and scared, and decided to stand away from the WFI chief. Jagbir Singh, who trains wrestlers at Delhi's Chandgi Ram Akhara, has been working as an international referee and judge since 2007 and last officiated in an international tournament in 2022. He was supposed to be sent on June 13, but the WFI did not. send him. He alleged that during the Thailand tour in 2013, Brij Bhushan had arranged Indian food for the wrestlers. "He was drunk when he arrived for dinner, and sexually assaulted several female wrestlers by touching them inappropriately", she said. Jagbir Singh also revealed that after becoming the WFI chief, Brij Bhushan made it a rule from 2012 that the mats of women wrestlers be placed in front of his stage at every wrestling event. He also alleged that during foreign tours, Brij Bhushan made it a point to stay in the same hotels where female wrestlers used to stay. Last year, during a wrestling championship in Bulgaria, he said, Brij Bhushan went to the training center early in the morning and tried to teach wrestling tricks to the girls individually. Jagbir Singh said, 'He became a laughing stock in front of referees from other countries.' After revealing so many incidents on camera of key witnesses, Delhi Police also has to accept that there is merit in the allegations of sexual harassment leveled by our women wrestlers. I wonder whether Brij Bhushan will now say that he will hang himself. Second, regarding the allegation of harassment made by a teenage female wrestler. At first Brij Bhushan's camp tried to prove that he was not a teenager but an adult. Soon after, it changed sides, and tried to change its statement. These attempts were part of a conspiracy to ensure that he was not arrested and the POCSO (Protection of Children from Sexual Offences) Act was not invoked. Overall, Brij Bhushan Sharan Singh was trying every trick in this game so that he does not get arrested and the case becomes weak. But referee Jagbir Singh has turned around and hit back. We hope that more witnesses will come forward and tell the public on camera. In such a situation, it will be difficult for Brij Bhushan to save himself from the hands of the law.
Yogi kills two birds with one stone


The UP government on Friday handed over the keys of 76 new flats in Prayagraj to the poor people whose names were drawn in the lottery. The flats were built in a record time of 15 months after the administration confiscated the land illegally occupied by mafia don Atiq Ahmed. Chief Minister Yogi Adityanath had laid the foundation stone in December 2021. A total of 6,071 people applied for 76 flats, 1,595 applicants were found eligible under the EWS category and the names of 76 beneficiaries were announced after the lottery draw. The block of flats, each built over an area of ​​800 sq ft, has a ground floor and three floors with parking space. It has a community hall and a common area. Electricity is supplied by solar lights. The happiness of the house was clearly visible from the smiles on the faces of the women who received the keys. Yogi Adityanath achieved two goals by completing this project. One, the poor families got their homes, and two, the mafia groups were shown their rightful place. Yogi has shown how land can be cleared with bulldozers to build houses for the poor.



Aurangzeb or Shivaji: Who is our hero?


Situation is returning to normal in Maharashtra's Kolhapur after violence and stone pelting by some miscreants for posting pictures of Aurangzeb and Tipu Sultan on social media. Police arrested 36 people and are now trying to find out who incited communal tension by posting these pictures. The Muslims who came out after offering Friday prayers said that those who call Aurangzeb a hero in Maharashtra can never be called patriots. He said that Shivaji has always been our ideal and not Aurangzeb. In Hyderabad, AIMIM chief Asaduddin Owaisi asked, 'When posting pictures of Aurangzeb and Tipu Sultan on social media has become a crime. He attacked Deputy Chief Minister and BJP leader Devendra Fadnavis' 'Aurangzeb ki aulad' remark and asked who were the 'aulads' (progeny) of Nathuram Godse, Narayan Apte and Madanlal Pahwa, accused in the Gandhi assassination case. Maharashtra BJP chief Chandrashekhar Bawankule said, if there is tension in the state, then Owaisi will be solely responsible for it. Shiv Sena (Uddhav Thackeray faction) leader Sanjay Raut alleged that it was the BJP which was creating communal tension. He said, "After failing to win Karnataka in the name of Bajrangbali, BJP is now creating tension in the name of Aurangzeb." After seeing what the common Muslims say in Kolhapur and what the leaders say, it is needless to say that the general public does not want riots and the Muslims living in Maharashtra consider Shivaji as their hero. He is not with those who consider Aurangzeb as their hero. But there are some leaders who incite people by making provocative statements. Neither Owaisi is innocent nor Sanjay Raut. All political parties including BJP are trying to do political manipulation by taking the name of Shivaji and Aurangzeb. The general public should understand this fact.
Aaj Ki Baat: Monday to Friday, 9:00 pm
India's number one and most followed super prime time news show 'Aaj Ki Baat – Rajat Sharma Ke Saath' was launched just before the 2014 general elections. Since its inception, the show has been redefining India's super-prime time and is numerically way ahead of its contemporaries.