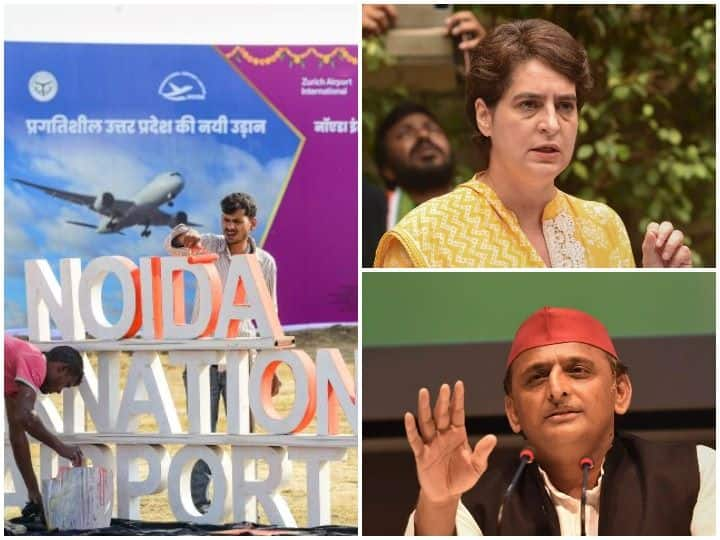 New Delhi: As elections in Uttar Pradesh are just a few months away, political parties are leaving no stone unturned to influence the electorate. As Prime Minister Narendra Modi is set to inaugurate Asia's largest 'Noida International Airport' in Jewar today, Congress leader Priyanka Gandhi Vadra took to Twitter and lashed out at the BJP calling for farmers to build a fifth international airport in Uttar Pradesh. accused of acquiring land.
Congress general secretary Priyanka Gandhi asked PM Modi to pay compensation to farmers whose land has been acquired for the Noida International Airport (NIA) in Jewar, and asked why they were left with no option but to stay in tents. Is.
Tagging a media report that claimed that some farmers were living in tents as they were not allotted plots elsewhere, while others were not compensated for land acquisition for the airport, Priyanka Gandhi asked why the farmers in Jewar were not given compensation for them. Earth.
He asked why the families of farmers were left with no option but to stay in tents in this severe cold.
In a tweet in Hindi, Priyanka Gandhi said, "Compensation is the right of the farmers. Narendra Modi ji, if your intentions regarding farmers are sincere, don't make farmers homeless to fulfill your election ambitions."
Not only Congress, Samajwadi Party leaders also shared posters related to Jewar airport criticizing the central government and Prime Minister Narendra Modi.
The Uttar Pradesh Police on Wednesday removed posters related to the Jewar International Airport in the city ahead of the Prime Minister's visit to lay the foundation stone.
The posters had pictures of local Samajwadi Party leaders asking the BJP government when it was going to sell the under-construction airport. Police took down the posters – reportedly sometime the previous night – and booked several people in the case.
"When will the BJP sell Jewar airport?", read the posters, as reported by PTI.
He also said that in 2022, Akhilesh Yadav will come and save the airport from being sold.
Prime Minister Narendra Modi will lay the foundation stone of the airport in Gautam Budh Nagar today.
The first phase of the airport is being developed at a cost of over ₹10,050 crore.
The airport is spread over 1300 hectares of land. The completion of the first phase of the airport will have a capacity to serve 12 million passengers annually and work on it is targeted to be completed by 2024.
(with agency input)
,