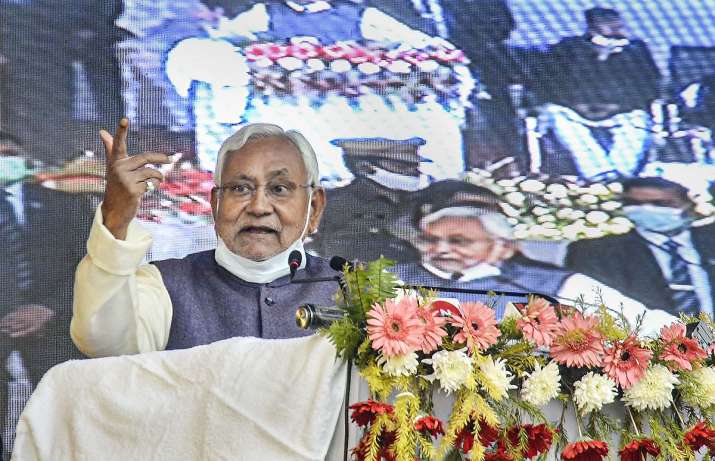 Bihar Chief Minister Nitish Kumar on Wednesday blew the fuse after some people interrupted the flow of his speech at a public event where he was emphasizing on the evils of drinking alcohol. Kumar was in this north Bihar district to take forward his "social reform campaign", under which he is touring the state and holding public meetings against alcohol consumption, dowry and child marriage.
"Which mischief are you doing? Do you not care about social reforms? If so, leave this place," said the seventy-year-old leader, the state's longest-serving chief minister, when some in the crowd The scuffle between the people and the security personnel caught their attention.According to the police, some local level elected representatives had come to submit a memorandum to the Chief Minister and they got into a fight after being stopped at some distance from the stage.
The matter was resolved after the district police chief spoke to the agitated people, although before that he had not received the word of flogging from the Chief Minister.
"This meeting has been mainly organized for women. You have been given permission to watch. Do you think social awakening is necessary only for them, not you men?" A clearly troubled Kumar said.
"If you have any complaints, come see me when I finish the ceremony," he said. Kumar resumed his speech by emphasizing on the evils of drinking alcohol, marrying off girls at an early age and demanding dowry. However, it was not known whether the chastisement members of the crowd found spectators with him.
The chief minister launched his "social reform campaign" on December 22 and has visited East Champaran, Gopalganj and Rohtas districts so far.
His much-publicized move to ban the sale and consumption of liquor has been under question ever since over 40 people lost their lives in toxic tragedies around Diwali and the police intensified to strictly enforce prohibition.
The latest embarrassment for him came in the form of Chief Justice of India NV Ramana's statement last week that the prohibition law in Bihar suffers from a "lack of foresight" and as a result the higher judiciary is "surrounded by bail applications".
Kumar, however, asserted that even people coming from outside would not be given any relaxation and they need not go to Bihar if prohibition causes inconvenience to them.
Citing Mahatma Gandhi's famous hatred for alcohol in support of prohibition in Bihar, Kumar has also been calling for public shaming of law violators in the state.
The sale and consumption of liquor was completely banned in the state in April 2016, in line with an election promise Kumar had made to women ahead of last year's assembly elections. He has maintained that the bold move has resulted in lower crime rates and improved living standards for many people, far more than the loss of excise duty.
,