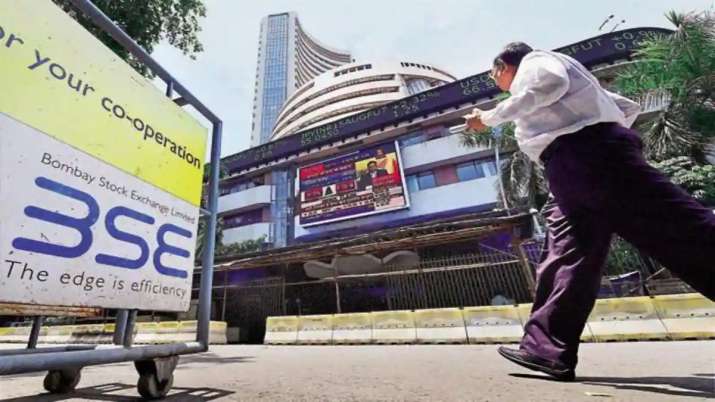 Benchmark indices fell nearly 3 per cent on Friday on heavy selling amid a negative trend in global markets and unabated foreign fund outflows. The 30-share index closed at 57,107.15, down 1687.94 points or 2.87 per cent. Similarly, the Nifty closed at 17,026.45, down 509.80 points or 2.91 per cent.
IndusInd Bank was the top loser in the Sensex pack, falling over 6 per cent, followed by Maruti, Tata Steel, NTPC, Bajaj Finance, HDFC and Titan. On the other hand, Dr Reddy's and Nestle India were among the gainers.
JSW Steel, Hindalco Industries, Tata Motors, IndusInd Bank and Adani Ports were among the major losers on the Nifty. Cipla, Dr Reddy's Labs, Divis Labs, Nestle and TCS were among the gainers. Among sectors, except pharma, which stood at around 2 per cent, all other sectoral indices fell between 1 and 6 per cent. Nifty Realty was the top gainer as it lost 6.26 per cent or 32.90 points. Nifty Bank was down 1,339.25 points or 3.58 per cent at 36,025.50.
Markets witnessed a sharp decline this week amid renewed concerns related to COVID-19. Shrikant Chauhan, Head of Equity Research (Retail), Kotak Securities said that the Sensex and Nifty have lost nearly 4 per cent this week and are down about 8 per cent from their highs.
"The new version of COVID-19 is posing challenges in the form of lockdowns and travel restrictions. Apart from concerns related to COVID, inflation is a concern for countries across the world. FIIs have been a net seller this week. In the near term The equity market term will closely follow the impact of the new COVID version, inflation data and central bank policies," he said.
Elsewhere in Asia, shares fell up to 2.67 percent in Shanghai, Hong Kong, Seoul and Tokyo. Stock exchanges in Europe also fell up to 3.51 per cent in mid-session deals.
Meanwhile, international oil benchmark Brent crude fell 5.62 per cent to $77.60 a barrel.
,