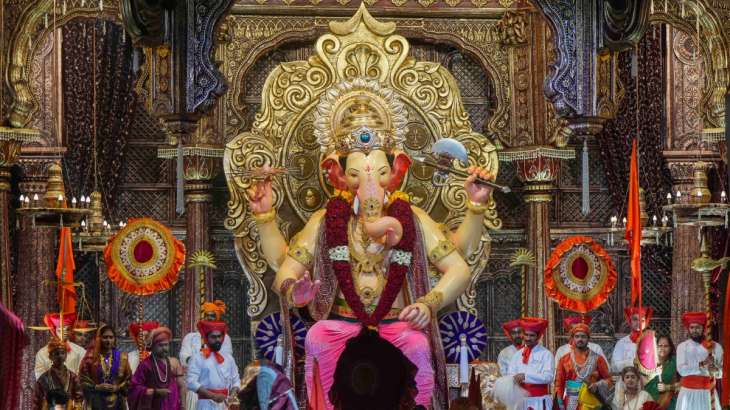 Lalbaugcha Raja is one of the most popular Ganpati celebration in the financial captial of India, Mumbai. In just three days of Ganesh Chaturthi, iconic Lalbaugcha Raja has received Rs 1,59,12,000 as donations. Not only this, the Ganpati idol also received an offering of 879.53 grams of gold and 17,534 grams of silver as a donation. On its second day of the festival, Lalbaugcha Raja got donations of over Rs 60 lakh (Rs 60,62,000). 
Also Read: Nita Ambani bids adieu to Ganpati, accompanies Bappa on his 'visarjan' journey
Lalbaugcha Raja
It is one of the oldest and the most popular mandals in Mumbai, which attracts lakhs of devotees including celebrities, politicians and business tycoons. On Friday, Reliance Industries chairman Mukesh Ambani visited Lalbaugcha Raja with his family and seeked blessings from Lord Ganesha. The history of the Lalbaugcha Raja is quite famous as it is the popular Ganesh idol of Lalbaugcha Raja Sarvajanik Ganeshotsav Mandal, located at Putlabai Chawl, a place of worship founded in 1934. The Lalbaugcha Raja Ganapati idol has been taken care of by the Kambli family for over eight decades.
Ganesh Chaturthi
Also Read: Mukesh Ambani visits Lalbaugcha Raja with family, offers prayers
The 10-day festival began this year on September 19.  It is the most popular festival in Maharashtra where pandals set up by various mandals in Mumbai and other places in the state attract thousands of devotees. To celebrate the festival, people bring Lord Ganesha idols to their homes, observe fasts, prepare mouth-watering delicacies, and visit pandals during this festival. The ten-day festival starts with Chaturthi Tithi and ends on Anantha Chaturdashi. This year, Lord Ganesha's visarjan will take place on September 28.