New Delhi: A special 'Sankalp-Smarak' dedicated to Netaji Subhas Chandra Bose was inaugurated on Wednesday in the Andaman and Nicobar Islands at the place where the freedom fighter hoisted the tricolor for the first time after India gained independence.
The memorial was inaugurated 73 years later on the same day that Subhas Chandra Bose landed on the runway of Port-Blair, the capital of Andaman and Nicobar, in a plane on 29 December 1943.
The country's first and only tri-service theater command of the Indian Armed Forces, the Andaman and Nicobar Command has erected a Sankalp Smarak at the Port Blair airport near the same runway where Netaji's plane landed in recognition of the significant contribution of Subhas Chandra Bose. Freedom Struggle.
Commander-in-Chief of Andaman Command Lt Gen Ajay Kumar inaugurated the memorial on Wednesday. The motto of this memorial is Loyalty, Duty and Sacrifice.
Speaking at the inauguration ceremony of the memorial, the Commander of the Andaman and Nicobar Command remembered Netaji and the brave soldiers of the Azad Hind Fauj by paying tribute to them.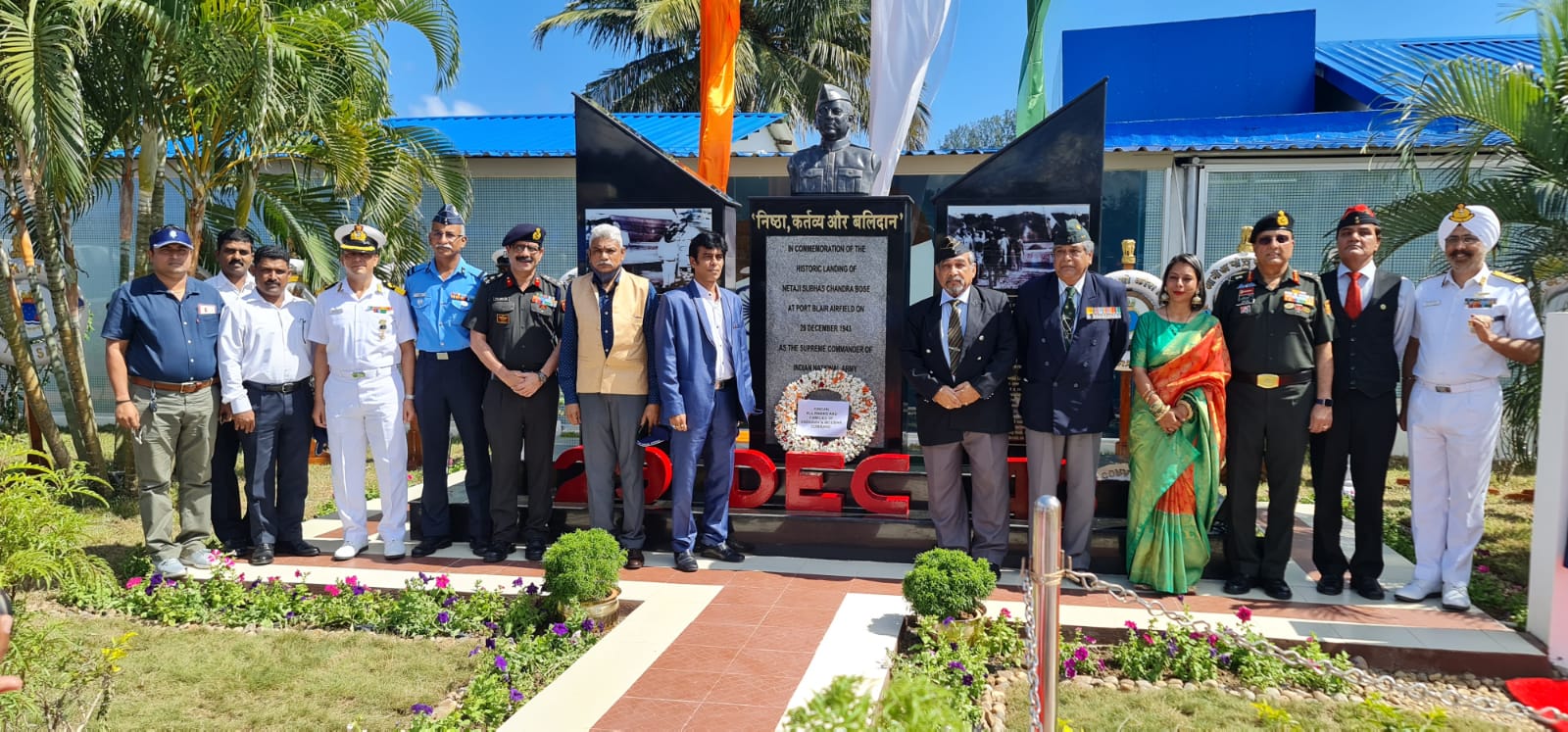 During World War II (1942–45), Japan conquered the Andaman and Nicobar Islands from the British and handed it over to Netaji and his army, the Azad Hind Fauj. Long before India gained independence in 1947, Netaji had declared the island free from British rule, making it the first Indian territory.
When Subhash Chandra Bose reached Port Blair on 29 December 1943, the tricolor was first hoisted on Ross-Island (now 'Netaji Island') of Andaman.
During his visit, he also visited the Cellular Jail and met the freedom fighters lodged there. Netaji changed the name of Andaman to 'Shaheed' and Nicobar to 'Swaraj'. However, due to Japan's defeat in the Great War, the British once occupied a group of islands known for their strategic importance.
After independence, the country's first tri-service i.e. joint command of Army, Air Force and Navy was established in Andaman and Nicobar-Andaman Nicobar Command (ANC).
The part of the Port Blair airport where the Sankalp memorial has been built is now under the Indian Navy's (and tri-services command) INS Utkarsh. A new runway has been prepared at Port Blair airport on which Netaji's plane landed and is being used for civilian traffic.
,