The Lamborghini Revulto, since its reveal, has been garnering attention as the first hybrid car with the fiery Bull monogram. The car also brings to the fore the future strategies of the Italian automaker in terms of design and powertrain options. Furthermore, the aggressive design of the car along with the plug-in hybrid powertrain marks the brand's transition from ICE engines to electric powertrains. However, the car still holds strong to its roots with the powerful punch seen in the previous models from the Italian automaker.
An advertising video released by the Italian sports car shows the car's grip with the V12 engine. Also, the video shows the car in motion which gives a significant hint about the massive power output of the car. After a few seconds, the video shows the power mill being assembled and fitted at the rear of the car. Meanwhile, it appears to be heavily focused on the electric part of the supercar, which is indicated by the lighting around the vehicle.
Read also: Citroen C3 Aircross SUV unveiled ahead of 2023 launch, to rival Hyundai Creta
The video begins by showing a storm filled with "thunder and lightning" symbolizing the sound produced by the V12 combined with the electric motors in the powertrain. Once the car is up to speed, a portion of the video highlights the exhaust spitting flames generated by the roaring V12.
To get a broad idea, the Lamborghini Revulto is powered by a 6.5-litre V12 engine, which shares its roots with the Aventador. However, in the car, the engine has been tuned to generate 814 hp of power and 525 lb-ft of peak torque. When combined with a plug-in hybrid system using three electric motors, power output rises to 1000 hp. Furthermore, this is the first time a double-clutch gearbox has been used on a 12-cylinder Lamborghini engine.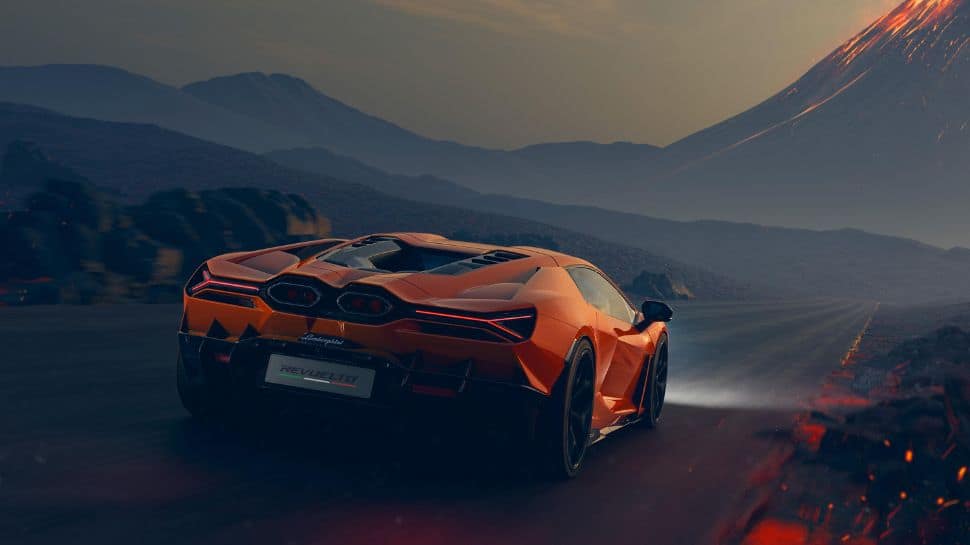 The front axle of the Lamborghini Revuelto gets power from electric motors, while the rear wheels get power from the engine. This not only makes torque vectoring possible but also enhances cornering performance. All this together sums up Lamborghini's claim of a "high performance electrified vehicle".
In other words, the powertrain of the Lamborghini Revulto enables it to sprint from 0-100 kmph in 2.5 seconds. Also, the car has a top speed of over 350 kmph due to the extensive use of carbon fiber in the body.