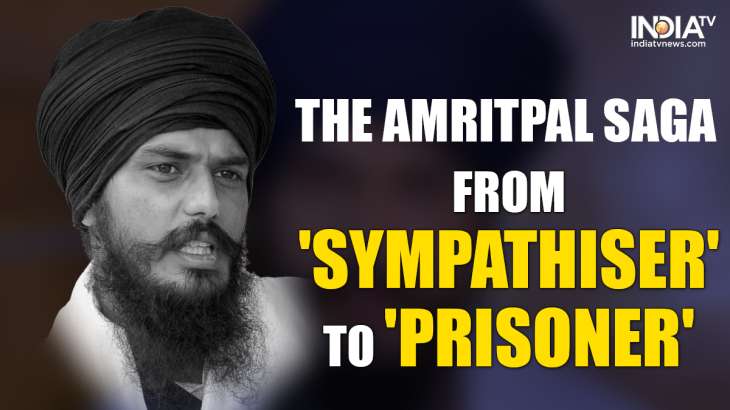 Amritpal Singh arrested: The Punjab Police today ended a month-long search by arresting pro-Khalistan activist Amritpal Singh from Rode village in Moga. He is lodged in the high security Dibrugarh jail. He was brought in a special aircraft from Bhatinda Air Force Station in Punjab to Dibrugarh, where he was lodged in a high-security prison that previously housed northeastern insurgents.
The rise of a radical preacher with suspected Khalistan support and since last month he and weapon-wielding supporters stormed a police station, managed to evade arrest, were seen as a challenge by the country's security apparatus, and brought back There was a fear of militancy in Punjab during the late 1980s and early 1990s.
Amritpal Singh was taken into custody at 6.45 am
The preacher was taken into custody at 6.45 a.m. as he came out of the gurdwara in Bhindranwale's native village of Rode – dressed in traditional attire, which included a sheathed sword – as the head of Waris Punjab Day.
The Punjab Police, which completely cordoned off the gurdwara where Singh was hiding, detained the 29-year-old radical under the stringent National Security Act.
How was the Khalistani sympathizer arrested?
The inspector said, "A joint operation was launched by the Amritsar Police and the intelligence wing of the Punjab Police. He was located in Village Road based on operational inputs with the Punjab Police. He was cordoned off from all sides. The village was cordoned off by the Punjab Police." surrounded." Inspector General of Police Sukhchain Singh Gill.
Formalities were completed before they were accommodated
The special flight, which brought him to Dibrugarh in Assam, nearly 2,000 km from Bhatinda Air Force Station, landed in Dibrugarh at 2.20 pm and a double cordon of armed police personnel took him for medical check-up and other formalities and finally kept him in the hospital. The Central Jail, where nine other of his associates were picked up over the past several weeks, has also been kept.
Singh gave a brief address
Shortly after his arrest, a video surfaced online in which the extremist preacher was seen giving a brief address, indicating he was surrendering. Another clip shows him sitting in front of a portrait of Bhindranwale, who died in a controversial military operation in 1984 to flush out terrorists holed up inside Amritsar's Golden Temple.
Gill denied the preacher's claim that it was a "surrender", and underlined that the fugitive had been captured based on intelligence inputs. Gill said the message was conveyed to the preacher that he had no chance of survival.
He said, 'NSA warrant was issued against Amritpal Singh and he was executed this morning. Further, the law will take its own course.
Reaction of Punjab Chief Minister Bhagwant Mann
In a video message hours after the arrest, Chief Minister Bhagwant Mann said those who disturb peace and harmony in the state will face the law and innocent people will not be harassed. Mann said that he kept a watchful eye on the developments during the night that led to the arrest.
Former Akal Takht Jathedar Jasbir Singh Rode said he met Amritpal Singh at the gurdwara as the preacher was ready to surrender.
In the gurudwara clip, the hardline preacher recalled that Rode is Bhindranwale's birthplace and the village where he had his own "dastar bandi" (turban tying ceremony) – a reference to his successor taking over as Punjab de chief. He claimed that excesses were committed by the government against Sikhs while he was on the run, suggesting that the security agencies wanted to harass people rather than just arrest them. He said that he would have cooperated with them if arrest had been their objective.
"This arrest is not the end"
He claimed, "I have decided to surrender and this arrest is not the end, it is the beginning." In "Court of the Almighty", he states that he is not guilty.
Hours after Amritpal was arrested, his family members said they were relieved to see him after more than a month. Amritpal's uncle Sukhchain Singh said in Amritsar, "We came to know from the media at 7.15 am that he has been arrested." Singh said, "Today, the family is feeling worry-free. We have seen him (Amritpal)."
Flag march held in Moga
Meanwhile, Punjab Police conducted flag marches in Moga, Bhatinda and other places after Amritpal's arrest as a precautionary measure. Police launched a crackdown on Amritpal Singh on 18 March, nearly three weeks after he and his supporters, many brandishing weapons, stormed the Ajnala police station near Amritsar to demand the release of an arrested colleague .
There were concerns that the preacher had links with Pakistan's spy agency ISI and was working towards radicalizing Sikh youth in an attempt to revive the call for a separate nation of 'Khalistan'.
Amritpal Singh took charge of Waris Punjab Dey last year
Amritpal Singh had returned from Dubai last year and took over the reins of Punjab Dey after the death of activist-singer Deep Sandhu.
The organization's stated objectives were to fight drug addiction among youth, but intelligence agencies feared it was just a front. Several cases have been registered against him and his associates for allegedly creating disharmony, attempt to murder, assault on police personnel and obstructing public servants in lawful discharge of duty.
While the preacher remained on the run for 36 days, the authorities continued to apply pressure on him by arresting his key associates.
Singh's wife was stopped from boarding the flight
His wife Kirandeep Kaur, a British woman whom he married in February, was recently stopped from boarding a London-bound flight from Amritsar airport. Hundreds of supporters were detained by the police, but most of them were released as the Akal Takht and Shiromani Gurdwara Parbandhak Committee claimed that youths were being harassed.
Security has been beefed up in Dibrugarh Jail
Security in Assam, which has been a surprise choice for the country's security planners to house the Waris Punjab Dey gang, has been tightened following the news that Amritpal Singh has been taken to Dibrugarh. "The Dibrugarh Central Jail complex has been cordoned off by elite black cat commandos of the Assam Police, CRPF and other security personnel," a senior official told PTI.
"He (Singh) has been kept in a special cell under tight security. A team of Punjab Police along with personnel of Assam Police is present in the jail," he said. The Assam Police is yet to make any official statement on the development.
Dibrugarh Jail is considered to be the strongest jail
The Dibrugarh Central Jail was built by the British in 1859-60 on 15.54 acres of land. Officials said it is one of the oldest and strongest jails. Security in and around the jail premises has been progressively beefed up since March 19, when four members of the 'Waris Punjab De' (WPD) were brought here in the first batch. However, today's security deployment is seen as unprecedented.
(With inputs from PTI)
Read this also | AAP govt committed to peace, security in Punjab: Arvind Kejriwal after Amritpal Singh's arrest
Read this also | Punjab CM said on Amritpal Singh's arrest, 'Did not sleep whole night, was in touch with officials'