The opening montage of 'Kaliru' shows people gathering in the midst of tense moments, an elephant crossing a road that appears to be extremely terrified as a mermaid, and spectators somewhere to frighten the larger animals. and watching. But live firecrackers are thrown. from around human settlements. As despair over the sad plight of the majestic mammals, Nagraj, a farmer, recounts how a wild elephant attacked him years ago, breaking his legs, arms and hips. He spent 2.5 years 25 lakhs for the treatment of the latter, after which he resumed farming and destroyed his crop in 8 acres with pachyderms. Many other farmers have not gone to tell the story.
The serious issue of human-animal conflict in the Western Ghats rarely gets attention, while the number of such incidents is increasing with every passing year. This is the issue that the 18-minute documentary 'Kaliru' has tried to reconcile.
"The reasons behind human-animal conflict and the way elephants behave are different," says Santhosh Krishnan, one of the directors of the documentary that focused on human-elephant conflict in Tamil Nadu.
"Each issue requires a unique, tailored solution to resolve such conflicts. In the future, with appropriate alarm systems, we may be able to reduce human deaths from such conflicts " But the number of human-animal relationships will only grow. This is what we learned after spending a lot of time understanding elephants and their herds in the most conflict-prone areas of the state," explains the 24-year-old.
wrong movie poster
It has been said in the film that the extent to which this problem has become formidable can be gauged from the fact that 64 elephants and 58 people have died due to such conflicts in Tamil Nadu in the last one year.
Apart from them, the film 'Kaliru' – which means bull elephant in Tamil – was co-produced by 28-year-old Jessin Kingsley, the lead naturalist of Kipling Camp in Madhya Pradesh's Kanha National Park. The legend is by renowned wildlife photographer and conservationist Belinda Wright.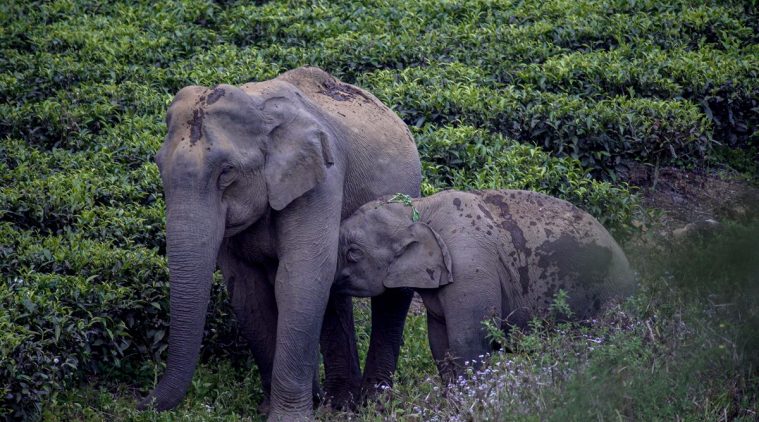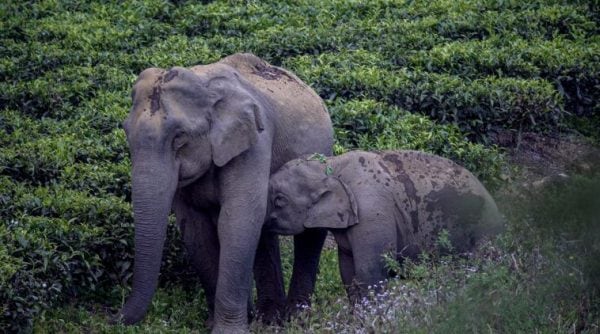 Elephant calf with its mother in the tea garden, Valparai area (Photo Credit Santosh Krishnan)
"Trucks carrying sugarcane from Karnataka to Tamil Nadu bring it through the Dhimbam road, which passes through the forests of Sathyamangalam and Hasnoor. Recent years have seen an increase in the number of elephants waiting on both sides of the road to collect sugarcane. A check-post in the area monitors trucks for overloading, among other things, and officials often ask drivers to remove excess sugarcane from lorries. These end on the side of the road," Krishnan says over the phone.
"Earlier, elephants used to wait for thrown reeds, but now their behavior is to grab sugarcane from trucks while vehicles wait for permission at the check-post. They even stop driving trucks to get what they want. Nowadays, these elephants do not depend much on the forest for food," he elaborates.
After completing field work for the documentary in 2020, Santhosh moved to Bengaluru, while Jesvin returned to Kanha. 'Kaliru' has won several awards including Best Environmental Film at El Cine Suma Paz International Film Festival, Emerging Talent in Nature Focus, Conservation Award from Tagore International Film Festival, and has been officially shortlisted for various upcoming festivals. However, the young directors are yet to watch the documentary together.
Kingsley says that it was a trip to his hometown Coimbatore that led him to work on the film in 2020. "At Mettupalayam, we have a famous wild elephant, Bahubali. Harvester, he used to roam till late at night and once made an unwelcome trip to the gate of our house after taking in the strong smell of some leftover jackfruit thrown by my mother. Bahubali was digging just for food, but within a few minutes the crowd gathered and started shouting at him. The whole area became chaotic," he recalls. Look, this kind of situation is not good from both the sides. One wrong move can lead to unwanted casualties. The same night the forest department came to our area and drove Bahubali into the forest.
"Elephants are wandering towards the boundaries of forests, entering residential areas and damaging standing crops. People set off fireworks, set avuttukai (native bombs) on edible fruits and throw stones at elephants to save their lives, crops and property. It seems the struggle is never ending," Kingsley lamented.
"We can isolate elephants from the problems they face by understanding their surroundings. In Valparai, the forest department developed a mechanism to alert tea garden workers and people living near the Annamalai Tiger Reserve forests about approaching wild elephants, thus resulting in such conflicts over the past decade. There were casualties. But," he says, "the annual migration of elephants from Kerala has been heavily disturbed because the expulsion of elephants into the forest confuses the herds, while the fragmentation of forest cover has changed their behaviour. change takes place. But this type of threat (migration) does not exist in the Mettupalayam region. Here, elephants and people face different issues."
The film suggests that the forest paths of elephant herds are not random routes, but ancient migratory routes that intelligent mammals have mastered over generations.
"In our film, we have covered what is prevalent, without exaggerating the issue. With 'Kaliru' we are hoping to change people. We want them to know about the present scenario. We are really hoping that this movie will help him understand elephants. Intensive research and scientific solutions can help us, but it is not before elephants become accustomed to these issues and change their behavior patterns, Krishnan explains the gist.
Watch 'Kaliru' on YouTube: http://www.youtube.com/watch?v=hY5g6E9OfGo