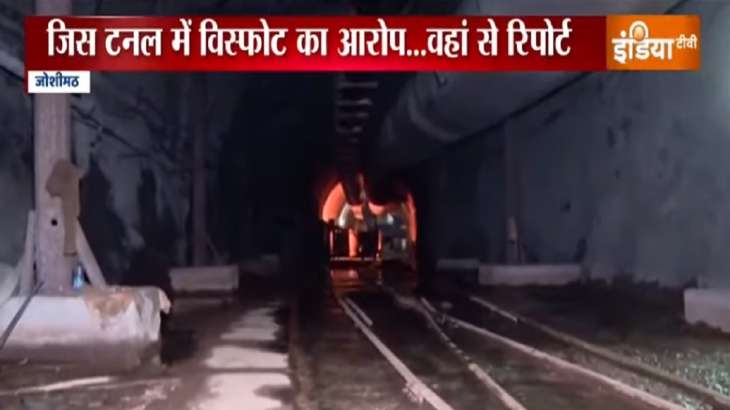 Joshimath Sinking: Experts have claimed that cracks in roads and houses in Uttarakhand's Joshimath are mainly due to large-scale infrastructure development taking place in an extremely fragile ecosystem like the Himalayas. Meanwhile, local residents as well as environmental activists have blamed the National Thermal Power Corporation's (NTPC) hydroelectric project for the landslide in the area.
Local people allege that explosions are still taking place inside the tunnel, but NTPC officials have presented a different argument.
However, India TV in its special report has exposed the truth behind these foul play in Joshimath.
There is a theory doing the rounds about land subsidence in Joshimath, claiming that NTPC tunnel has caused cracks in the city. It is being said that the ground is sinking due to the explosion inside the tunnel. It is also alleged that blasting is being done to remove the TBM machine stuck inside the tunnel which is completely filled with water.
To know the truth behind the floating theory, a team of India TV reached an NTPC tunnel located at Sheland village – about 3 km before Joshimath. NTPC has issued a clarification on the allegations citing an expert report from IIT Roorkee.
Here are the clarifications given by NTPC:
After the government's order of January 5, no work has been done in the tunnel.

The water of the January 7 disaster is not trapped in the rocks

Tunnel work is going on at a distance of one and a half kilometer from the last house of Joshimath.

The Joshimath disaster has nothing to do with the tunnel work.

The hill on which Joshimath is situated is not suitable for a large settlement.
According to reports, only four kilometers of the 12-km tunnel is left to be worked on – two kms from the Joshimath side and two kms from the Tapovan side. NTPC has also categorically denied that there was an explosion inside the tunnel. According to the company, two rivers, the Alaknanda and the Dhauliganga, meet at the Joshimath hill and the strong waters of both these rivers erode the rocks.
NTPC also claimed that this river would be diverted to an 8 km tunnel and then released further, so that the water of the Joshimath hills would not be cut off. Along with this, the production of electricity from the tunnel will also increase. At present, investigation is going on on other aspects as well and work on the tunnel has been stopped.
Local people opposed NTPC
Earlier on January 10, locals in Joshimath protested against the demand for withdrawal of National Thermal Power Corporation (NTPC) from the state. District authorities have asked people to vacate houses and other establishments that have developed cracks and been identified for demolition. "vulnerable". All these buildings are marked with a red 'X' mark.
Read also: Joshimath is sinking: Uttarakhand CM Dhami says, compensation by the end of the day