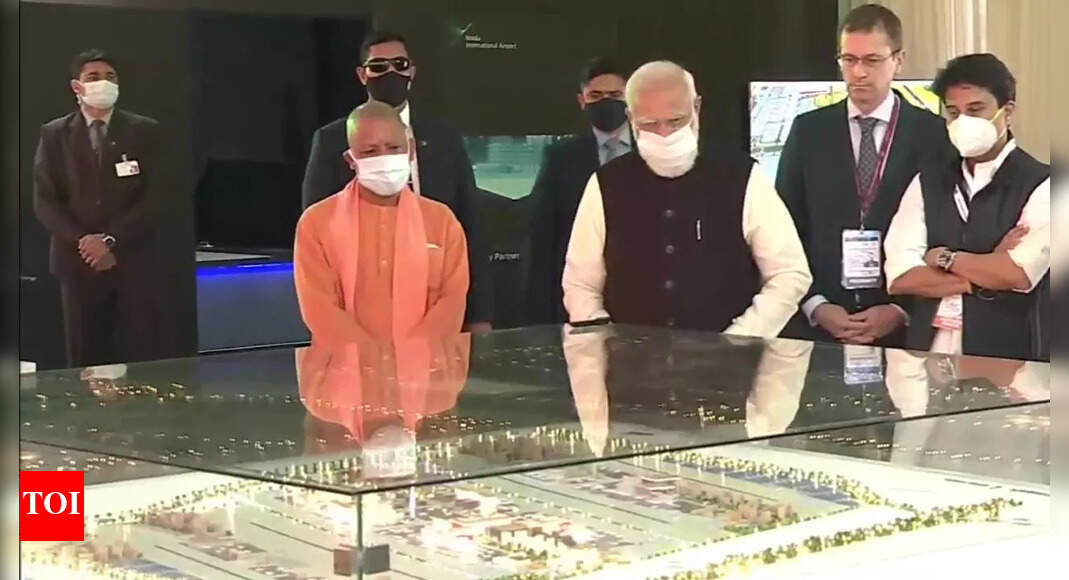 New Delhi: Prime Minister
Narendra Modi
On Thursday, the foundation stone of the much-awaited
Noida International Airport
(NIA) in the presence of Union Civil Aviation Minister Jyotiraditya Scindia and UP Chief Minister at Jewar
Yogi Adityanath
,
Here's everything you need to know about the airport:
*Second airport in Delhi-NCR:
Jewar airport will be the second international airport to be built in Delhi-NCR and will help in decongesting the Indira Gandhi International (IGI) airport in the national capital.
*fourth largest in the world
According to the UP government, after the completion of Jewar Airport, it will be the fourth largest airport in the world.
* Net-zero emissions:
The airport will be the country's 'first net zero emission airport'.
* Five international airports:
After the completion of Jewar, UP will be the only state in India to have 5 international airports. UP will have 5 international airports – Jewar, Lucknow, Varanasi, Kushinagar and Ayodhya – set to be commissioned next year.
* Four Steps:
Noida International Airport will be completed in four phases and the first phase is to be completed in 36 months.
* Rs 10,050 crore
: The first phase of the airport is being developed at a cost of over Rs 10,050 crore.
*29,560 crores.
The total cost of the airport project has been estimated at Rs 29,560 crore. This amount does not include the money spent by the Uttar Pradesh government for R&R and land acquisition. Uttar Pradesh government is spending Rs 4,326 crore on land acquisition and resettlement and resettlement
* 1.2 Cr Capacity:
In the first phase, the airport will have a handling capacity of 12 million passengers per year.
*7 crores:
Once completed, the airport will be able to handle 7 crore passengers annually.
*21 Minutes:
It will be linked with the planned Delhi-Varanasi high-speed rail, allowing people to travel between Delhi and the airport in just 21 minutes.
* Manufactured and operated by:
It will be built and operated by Switzerland-based Zurich Airport International AG.
*12 lakh passengers after the first phase:
In the first phase, which is scheduled to be completed by 2024, the airport will have a capacity to handle 12 million passengers per year.
,