when the late actor
irfan khan
Died in 2020, he left such a void in everyone's hearts which has not been filled till date. Hardly a day goes by when his fans or the people who work with him do not remember him. Maybe that's why remembering celebrity stylist and costume designer Irrfan Khan
Namrata Jouni
was filled with emotions.
"Irrfan sir was a very stylish person. He was always ready to try something new, something different. Since he loved to experiment with his style, he would make a trend from time to time, and that gave me a lot of opportunities and creative space to style." humble New.

Talking about her amazing style, Jouni said, "Also, whatever style she used, it was highly appreciated, as it looked elegant, flawless and classy."

Namrata Jouni has worked closely with Irrfan Khan. She was very familiar with his work ethic and mentioned that no one can match the energy that the late actor brought to the big screen. "No words can do justice when we talk about Irrfan sir, as he was a great personality. The aura, vibrancy, personality, energy he used on the sets was incomparable. ,

"I wish he could have done more films, he was the best actor and a humble human being that Indian cinema has got. He has always guided me in my career and that has really helped me a lot," Namrata said. said.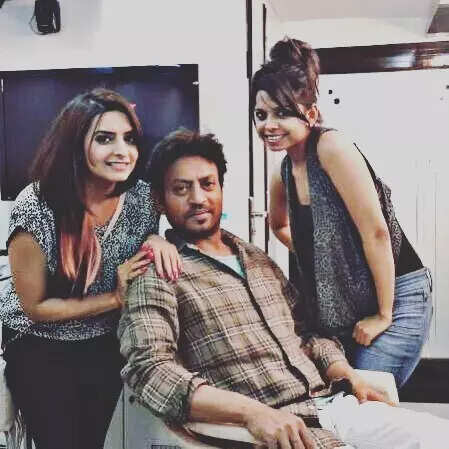 Apart from this, Namrata also shared a beautiful BTS account from the sets of 'Paan Singh Tomar' which melted hearts. She told us, "I have a lot of memories with Irrfan sir from the shoot of 'Paan Singh Tomar', one of which is very interesting. during the shooting ofPaan Singh TomariIt was my birthday so I told all the team members to celebrate after pack up but I didn't inform sir as he was very busy and I knew he had to shoot for his second shoot in the same area. Gotta go somewhere else. , After this, when we were celebrating in the middle of the night, I got a call from Sir. I thought it must be a work related call or it could be something about yesterday's styling. So I picked up the phone and surprisingly as soon as I said hello, they wished me a happy birthday. I asked him how did he know that today is my birthday? And he was like, this is not the question, the question is you invite everyone but not me."

After this Irrfan Khan became a part of the birthday celebration. This was the day when Namrata Jouni was once again impressed by Irrfan Khan's soft-hearted and humble expressions.

"If I talk about my bond with him, he was more than family to me, he was like a mentor to me and you can understand how frustrating it is to lose a mentor. But I'm sure Wherever he is now, he must be spreading love and happiness around him," concludes Namrath Jouni.
,