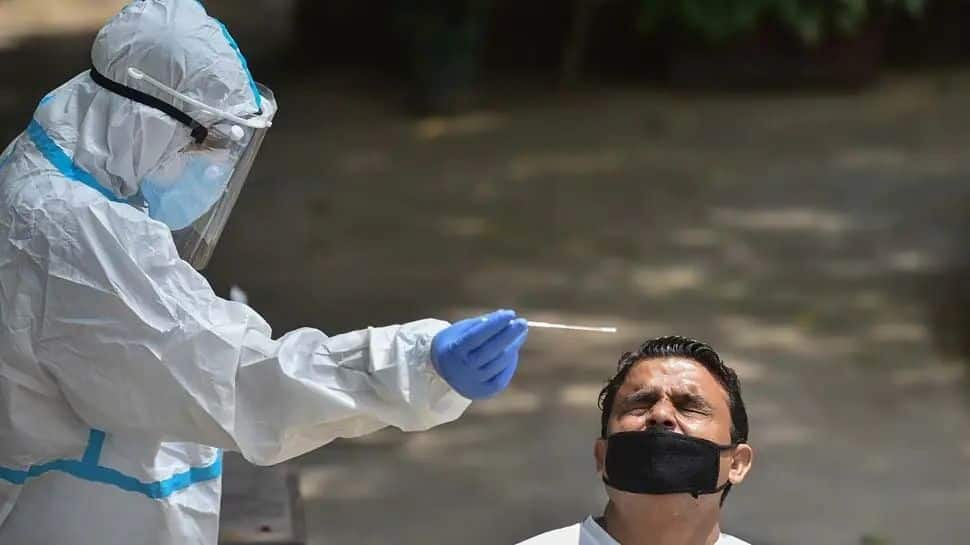 New Delhi: India on Thursday (November 25) reported 9,119 new COVID-19 cases and 396 deaths in the last 24 hours, according to the Union Health Ministry.
The death toll has gone up to 4,66,980, while the total number of infections in India has gone up to 3,45,44,882.
In the last 24 hours, about 10,264 people have been cured of corona virus infection. Active cases currently stand at 1,09,940, the lowest in 539 days.
#COVID-19 , According to the Health Ministry, 9,119 new cases were reported in India in the last 24 hours, 10,264 were cured and 396 deaths occurred.

Active cases stand at 1,09,940 – lowest in 539 days pic.twitter.com/x4SLz63Q5c

— ANI (@ANI) November 25, 2021
The daily increase in new COVID-19 cases has been below 20,000 for 48 straight days and less than 50,000 daily new cases have been reported for 151 consecutive days.
Active cases comprise 0.32 per cent of the total infections, which is the lowest since March 2020, while the national COVID-19 recovery rate has been recorded at 98.33 per cent, the highest since March 2020, according to the Health Ministry.
9,283 new cases of coronavirus have been reported in India and 437 fresh deaths on Wednesday.
Meanwhile, Delhi reported 35 fresh COVID-19 cases, pushing the caseload to 14,40,754, as per the data shared by the health department on Thursday. The death toll stood at 25,095 with no new deaths.
According to the Union Health Ministry, more than 132 crore (1,32,33,15,050) vaccine doses have been provided to the States/UTs so far. "More than 22.72 crore (22,72,19,901) remaining and unutilized COVID vaccine doses are still available with the states/UTs," the ministry said.
Earlier, allaying apprehensions about the intensity of the third coronavirus outbreak, Randeep Guleria, Director, All India Institute of Medical Sciences (AIIMS), Delhi had said that a third of the magnitude compared to the first two was COVID-19. The wave is unlikely to hit India. "It is unlikely that the third wave of Covid-19 will hit India as compared to the first and second. Over time the pandemic will take an endemic form. We will continue to get cases but the severity will be much less," Guleria had said.
(with agency input)
,