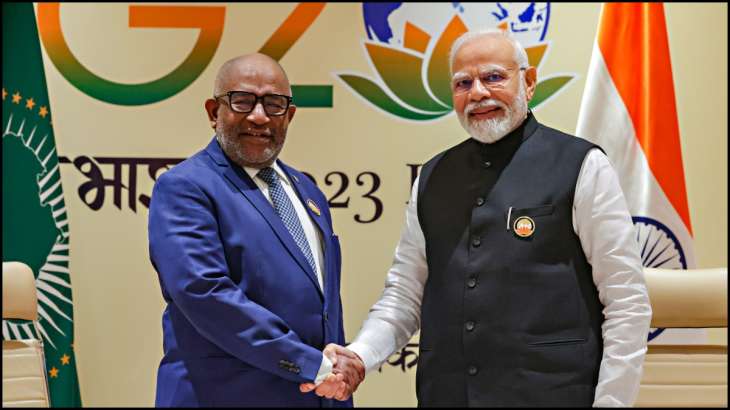 G20 Summit 2023: India made a significant achievement with the inclusion of African Union (AU) in the G20 during day 1 of the high-profile summit on Saturday. In his first reaction to the decision, AU chairperson Azali Assoumani on Sunday expressed his satisfaction and credited Prime Minister Narendra Modi for the move.
"To my great satisfaction, admission of African Union was approved during the G20 Summit Delhi. PM Modi and other members endorsed the accession of the African Union to this major economic decision-making body," said Assoumani during a press conference on the sidelines of the summit.
He also said that it was an honour to represent the African Union in the G20 Summit held in New Delhi and take part in the "fruitful debate" in the two days. Describing his emotions when PM Modi offered him to take the seat as a permanent representative of G20, Assoumani told news agency ANI that he was "about to cry".
"It was a great emotion for me. Because actually, we thought that there was going to be a debate and then a decision would be taken but at the very beginning of the Summit it was announced that we were a member," he said.
Enough room for India in Africa: AU chairman
Additionally, the AU chairperson said that India is a superpower in terms of inhabitance and that it was ahead of China now. "India is the 5th superpower in the world so there is enough room for India in Africa. We also know that India is so powerful that it went to space. So we just need to coordinate…India is superpower in terms of inhabitance, India is ahead of China now," he mentioned.
Assoumani's statement is significant as China remains Africa's largest trading partner, which is a challenge for Indian investment in the continent.
AU's inclusion in G20
During his opening remarks in the high-profile G20 Summit in New Delhi, PM Modi welcomed Comoros President and AU chairman Azali Assoumani to take his seat as a permanent member of the G20 forum. External Affairs Minister Dr S Jaishankar escorted Assoumani to his seat. Assoumani has been the chairperson of AU since February 2023. It is the first expansion of the influential bloc since its inception in 1999.
Ahead of the G20 Summit, PM Modi said that Africa was a "top priority" for India and wrote to world leaders in June to welcome the AU in the G20 forum. The proposal was formally included in the draft communique for the summit during the third G20 Sherpas meeting in Karnataka, in July.
What is the African Union?
The African Union (AU) is a African continental body comprising of 55 countries – including Burundi, Cameroon, Central African Republic, Chad, Congo, Democratic Republic of Congo, Guinea, Comoros, Djibouti, Ethiopia, Eritrea, Kenya, Madasgascar, Mauritius, Rwanda, Seychelles, Somalia, South Sudan, Tanzania, Nigeria, Uganda, Egypt, Libya, Morocco, Algeria, Tunisia, Zimbabwe, Angola, Bostwana and others.
The motive of the pan-African organisation is to promote the unity and solidarity of African nations to defend sovereignity of the states, eradicate colonialism and promote cooperation on international and regional policies among the member-states. It was officially launched in 2002 in Durban, South Africa, as a successor to the Organisation of African Unity (OAU).
(with agency inputs)
ALSO READ | 'Actions of few don't represent entire…' What Canadian PM Justin Trudeau said on pro-Khalistani protests