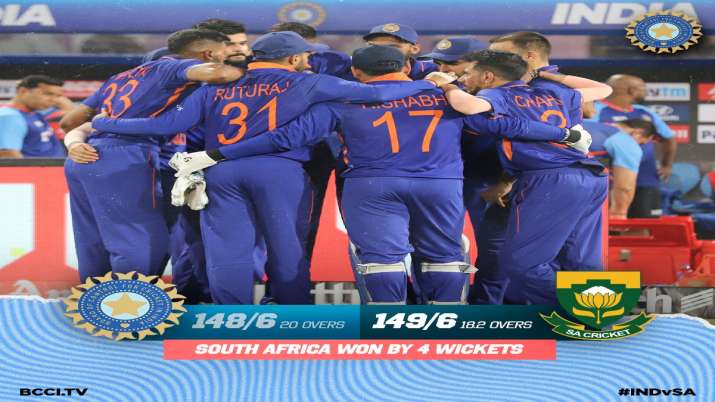 Team India's troubles are not taking the name of stopping. The way South Africa has turned its game up, it has put India out of the driver's seat. One could bet that India started out as favourites, but their on-field performances in the last two encounters didn't do justice to their skills as a team. How the series has progressed so far raises many questions. Questions like resting big guns Jasprit Bumrah, Rohit Sharma, Virat Kohliand Mohammed Shami. Question on which direction the team is going. Questions on Rishabh Pant's captaincy and the strategy he is trying to use.
After the debacle of the 2021 T20I World Cup and a complete overhaul of the team management, the Indian T20I team seems to be in trouble. Certainly, form cannot be blamed as most of the players representing India in this series have been doing well IPL weather. It is a collective failure and one person or the other cannot be blamed. In the first T20I, the batting clicked, but the bowling let the team down. Moving into the second T20I, the bowling put pressure on the opposition in the powerplay but the batsmen could not pick up the pace and express themselves. Bhuvneshwar Kumar Recently came out and took the blame that the bowling unit could not perform to the best of their ability in the first T20I. It is testing time for the Indian team and someone needs to raise their hand and take responsibility for what unfolded in the second T20 International.
As far as both the matches are concerned, the middle overs have been very painful for Team India. He just couldn't bring things together with the bat and couldn't even strangle the opposition for runs. The boys in blue repeatedly failed to exert any pressure and as a result, the opponents kept taunting them and kept the run rate under control. Heinrich Klasseny The second T20I saw the same loss as Rassie van der Dussen did in the first T20I. Fielding has also been a matter of concern for Team India due to missing catches. These were the chances that paid off for the Indian team.
India is now moving towards Vizag which is a game of do or die for them. South Africa, who were underdogs, jumped miles ahead of the boys in blue, who now have a fascinating game to play. With just one day between two matches, captain Pant and coach Dravid have a lot to sort out. It looks like the debut cap may be handed over, but only time will tell what is going on in the Indian camp right now.