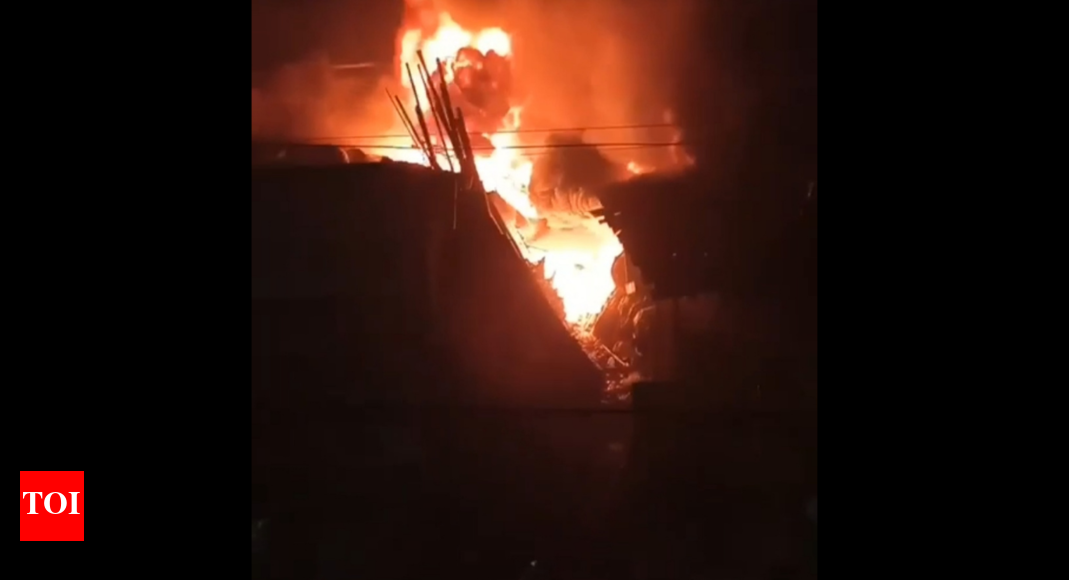 Yamunanagar: Four members of a family, including three minors, were killed and one was seriously injured when a massive fire broke out at a junk warehouse in Yamunanagar's City Center Park area on Thursday.
The deceased have been identified as Niyamuddin (37), his daughter Fiza (12) and two sons Chand (8) and Rehan (3), residents of Madhuban district of Bihar. Niyamuddin's wife Naseema was seriously injured due to burns.
Police said that Naseema is undergoing treatment at the Civil Hospital in Yamunanagar. The incident happened around 1.30 pm. Neighbors informed the police and fire brigade officials after seeing smoke coming out of the godown.
Police and fire brigade teams rescued 17 people from four families living in separate quarters for laborers inside the godown as they broke through the roofs of neighboring houses.
"Everyone managed to get out but Niamuddin's family could not get out because of the flames," said Samta, an eyewitness.
Niyamuddin worked as a laborer in a plywood industry in Yamunanagar and lived with his family in a rented house inside the godown.
Yamunanagar Fire Officer Pramod Duggal said that six fire tenders were pressed into service to douse the fire, which they doused after several hours.
"Our teams with the help of police officials rescued four families, but we could not save one," Duggal said.
Duggal said that according to preliminary analysis, the reason for the fire seems to be an electrical short circuit. "Garbage warehouses often contain flammable materials and we will investigate the spot to find out the exact cause," Duggal said.
As soon as the information about the fire incident was received, Mayor of Yamunanagar city Madan Chauhan also reached the spot and expressed condolences on the loss of life and property.
Sources said that the junk warehouse belongs to Naveen, a resident of City Center Road in Yamunanagar and it was established about 40 years ago. Inside the godown there were separate quarters for the workers and their families and a total of five families lived in them.
Yamunanagar city station in-charge (SHO) Dal Singh said, "A total of 22 people lived in different quarters inside the godown and 17 others were rescued in time. The condition of the injured woman is said to be out of danger. It has been kept in the mortuary for post-mortem."
,