920" src="https://resize.indiatvnews.com/en/resize/newbucket/1200_-/2023/02/kharge-1675748688.jpg" class="attachment-post-thumbnail size-post-thumbnail wp-post-image" alt="HAL was ready to build 108 Rafale aircraft but Modi brought readymade ones from France: Kharge hits back at PM" decoding="async" />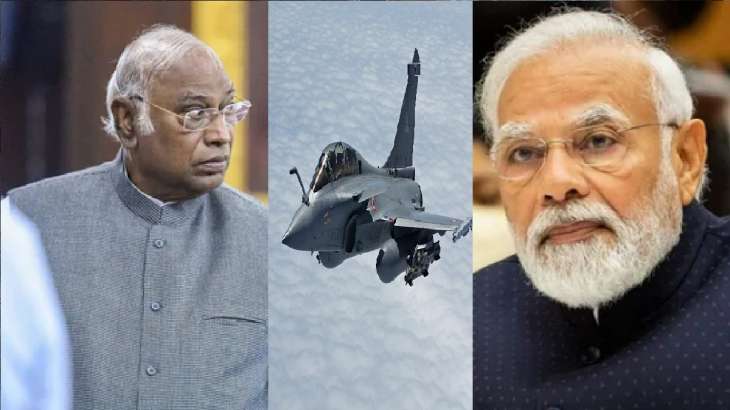 Rafale Controversy: Congress President Mallikarjun Kharge on Tuesday hit back at Prime Minister Narendra Modi over his remarks on HAL (Hindustan Aeronautics Limited).
"HAL was ready to make about 108 Rafale aircraft, but PM Modi brought readymades from France. Many industries came to Karnataka during Jawaharlal Nehru's time. They (BJP) didn't do magic today. They (PM) just needed an excuse. Was." election campaign," Kharge said.
PM Modi targets Congress on Rafale
Earlier, PM Modi on Monday inaugurated India's largest helicopter manufacturing facility in Tumakuru, Karnataka. PM Modi used the occasion to launch a scathing attack on the Congress-led opposition's allegations against his government over the Rafale fighter jet deal with France.
Addressing a public meeting in Tumakuru, about 70 km from the state capital Bengaluru, PM Modi said the opposition was involved in spreading misinformation about the Hindustan Aeronautics Limited (HAL) and also wasted the precious time of Parliament.
Read also: PM Modi inaugurates India Energy Week 2023 – the first major G20 event under the chairmanship of India
"Misinformation was spread about HAL, and many false allegations were made against our government. Many working hours of Parliament were wasted on this. HAL's helicopter factory and its growing power will expose those making false allegations. HAL Defense I am promoting self-reliance, PM Modi said without naming the Congress.
Karnataka is the land of innovation. From drones to Tejas aircraft are being manufactured in the state. The state has become the first choice of investors. went on to add.
Assembly elections are due in Karnataka later this year.
Former Congress president Rahul Gandhi led his party's campaign for the 2019 Lok Sabha elections, alleging irregularities in the Rs 59,000 crore fighter jet deal. Rahul Gandhi repeatedly alleged that the Modi government was trying to kill HAL and take away jobs from the people of the state.
Read also: Turkey Earthquake: PM Modi offers help; India will send NDRF, medical teams
However, the Congress campaign proved futile as the BJP returned to power with a thumping majority in the general elections.
HAL's new helicopter factory
HAL plans to produce over 1,000 helicopters in the range of 3-15 tonnes with a total turnover of over Rs 4 lakh crore over a period of 20 years at this facility in Gubbi taluk.
Spread over 615 acres of land, the factory, for which the PM laid the foundation stone in 2016, will initially manufacture Light Utility Helicopters (LUH).
The factory will be scaled up to produce other helicopters such as the Light Combat Helicopter (LCH) and the Indian Multirole Helicopter (IMRH). It will also be used for maintenance, repair and overhaul of LCH, LUH, Civil Advanced Light Helicopter (ALH) and IMRH in future.
(with inputs from agencies)