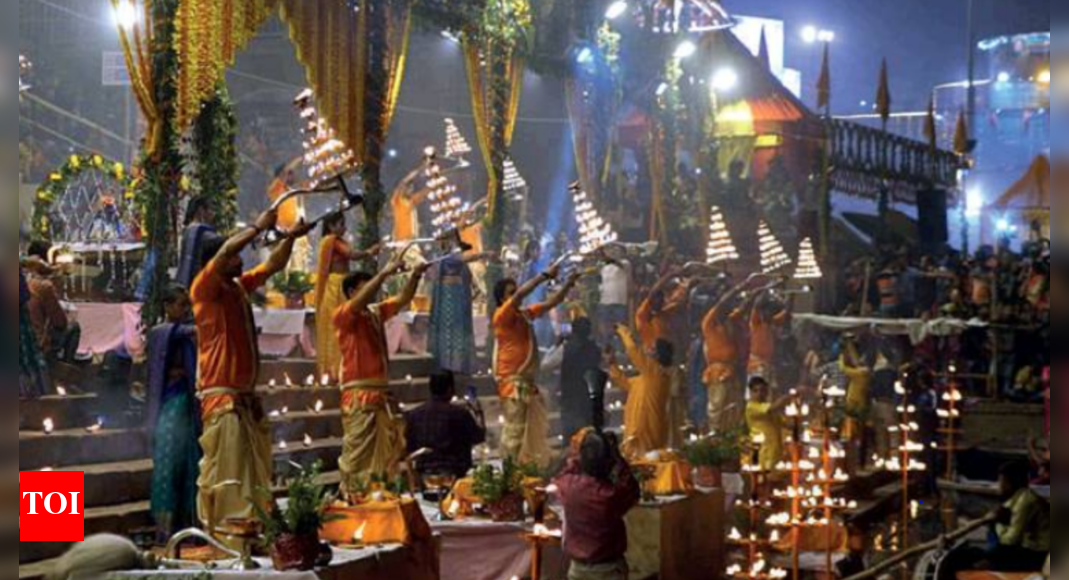 VARANASI: It was like an astronomical event when the crescent-shaped river Ganges on Friday evening was illuminated by innumerable twinkling 'diyas' (earthen lamps) on the majestic river bank. He was '
God
Deepawali', the Diwali of the Gods, in Kashi, the permanent abode of Lord Shiva and Goddess Annapurna.
Amidst the unique fusion of the heavenly and the mundane with religious fervor, the city also witnessed modern goods such as hot-air balloons and musical laser shows during Dev Deepawali, which is celebrated a fortnight after the festival of Diwali on Kartik Purnima.
The illuminated riverfront in the river and the reflection of the lamps floating in the stream created a mesmerizing world for the onlookers. The grand Ganga Aarti at Dashashwamedh Ghat and the beauty of the river banks were also witnessed by the boats as well as the crowd of people on the ghats.
For Hindus, the month of Kartik is considered as one of the holiest months. It has great importance in Hindu culture.
Hundreds of 'Akashdeep' (sky lamps) are hung in baskets on top of bamboo poles along the ghats in the evenings during the month, especially at Panchganga Ghat. It is believed that these lamps illuminate the path of ancestors on their annual journey to earth.
According to tradition, Lord Vishnu awakens from the sleep of 'Charutmas' on Prabodhini Ekadashi. During the five days from Prabodhini Ekadashi to Kartik Poornima, the ghats see morning bathers, who stop at the Bindu Madhava temple to have darshan of Lord Vishnu. Kartik Purnima is one of the biggest bathing festivals, when lakhs of devotees take a holy dip in the Ganges.
From Thursday afternoon, thousands of devotees from far and wide started thronging the Ghats and started taking a dip in the Ganges as early as morning. After bathing he offered prayers to the deities. The sea of ​​devotees was seen on the ghats. Elaborate security and traffic arrangements were made for the convenience of the people and visiting tourists and VIPs.
Prime Minister Narendra Modi also witnessed the grandeur of Dev Deepawali last year.
UP Minister Neelkanth Tiwari said, "Dev Deepawali festival has become a global event today after the participation of the Prime Minister last year." He said that the state government is actively supporting the festival since 2018.
"There was no government support in such an event before 2018," he said, adding that with the beginning from Panchganga Ghat in the past, today the festival is celebrated at all the ghats. The government set a target of lighting the riverfront with 12 lakh earthen lamps on the steps of the ghat, for which 120 committees were formed.
,