KOLKATA: If hawkers at New Market did not allow shoppers arriving by cars to park their vehicles or parking attendants did not cooperate, they could call the KMC control room or the New Market police station to complain, said police and civic officials on Friday.
Though police have already pushed back hawkers from a portion of Bertram Street and Humayun Place and reclaimed some parking slots, civic officials and cops said citizens' complaints might lead to better outcome.
Times view
Citizens should take up the police offer. It may be a struggle but, if the space can be permanently won for parking, it may be worth the while.
KMC and Kolkata Police have launched a joint drive to free the usurped parking lots following a meeting between mayor Firhad Hakim and West Bengal Heritage Commission chairperson Suvaprasanna. A police officer said the scene was particularly bad on Bertram Street, where almost three-fourth of the road had been encroached upon by vendors. "We have reclaimed a portion of the road and opened up the space for car parking," said the officer. A similar drive was conducted on Humayun Place and Lindsay Street.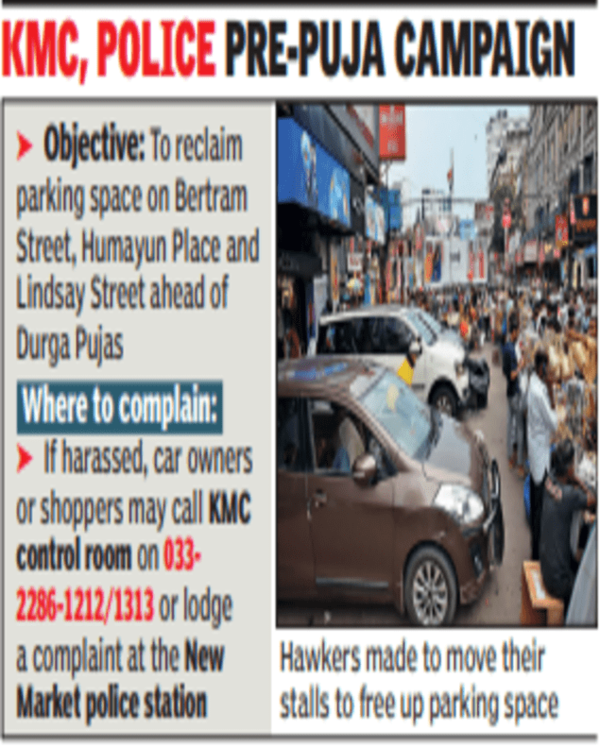 After an inspection of the area surrounding New Market and interacting with the attendants, a police officer said, "We were satisfied that cars were allowed to park on Bertram Street and Humayun Place. But we need to keep a constant watch ahead of Durga Puja."
The KMC car parking department has also decided to pay surprise visits. "We have instructed parking agencies working at New Market to slot cars at each parking lot according to the sanctioned number. If we receive any complaint, we will hold the agency responsible," said MMiC overseeing the KMC car parking department Debasis Kumar.
According to an official, the parking agency for Bertram Street, Humayun Place and Jawaharlal Nehru Road mostly sent vehicles to JL Nehru Road for parking as hawkers have taken over Bertram Street and Humayun Place.
"We often don't find parking attendants on Bertram Street or Humayun Place. At the same time, finding a parking space on JL Nehru Road is challenging," said Sanmoy Chatterjee, a visitor to New Market.