920" src="https://resize.indiatvnews.com/en/resize/newbucket/1200_-/2023/03/mallikarjun-kharge-ani1-1678791127.jpg" class="attachment-post-thumbnail size-post-thumbnail wp-post-image" alt="'Don't say Modiji…': When everyone bursts into laughter at Kharge's fun jibe at Centre over Oscars win" decoding="async" />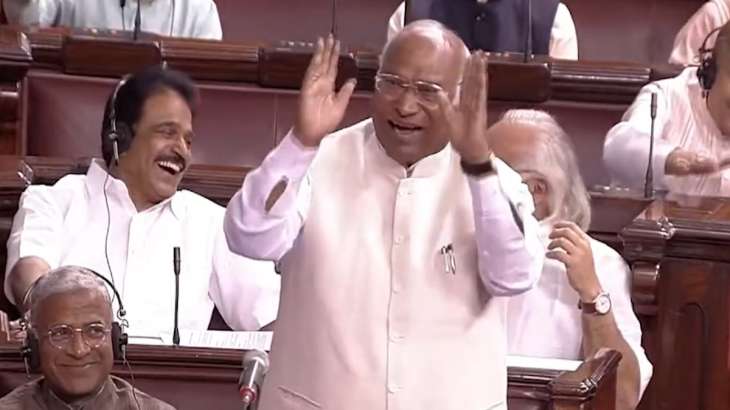 Oscar Wins: In the Rajya Sabha on Tuesday, Congress President Mallikarjun Kharge took a light-hearted dig at the Modi government while congratulating Oscar-winning Indian filmmakers in the Rajya Sabha. India won two Oscars for the film 'RRR' and the documentary 'The Elephant Whispers'.
Congratulating the Oscar-winning filmmakers, Mallikarjun Kharge said, "'RRR' and 'The Elephant Whispers' are India's contribution to the world. We request Modi ji not to take credit for their victories."
Making a statement in the Rajya Sabha, Kharge said, "I join in congratulating both the award winners. We are very proud, but my only request is that the ruling party should not take credit and say 'we Have given instructions, we have written, 'Modi ji has given instructions… He should not say so… That's my request.'
He further added, "Especially for the first time such an award has been given to 'Naatu Naatu' and 'The Elephant Whisperers'…so both films mostly come from South India and it is a matter of great pride for us. .. Proud .. Whatever you said we are with you .. My only result is ruling party should not take credit for this which we have directed .. We have written poem .. Modi ji directed this film have done… they should not say… this is the contribution of the country…'
On Kharge's comment, not only the MPs of the opposition, but the MPs of the ruling party, Vice President and Chairman of Rajya Sabha Jagdeep Dhankhar also laughed out loud.
Read this also | Tourists flock to 'The Elephant Whisperers' home to catch a glimpse of baby Jumbo, the 'star' after her Oscar win. Picture
Read this also | RRR 2 is coming soon! SS Rajamouli will work on the sequel of the film 'Tezz' after the Oscar win