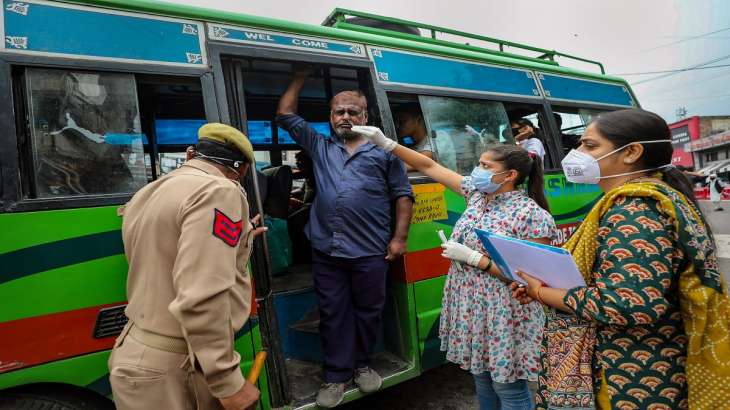 COVID-19 Update: India has recorded 3,611 new coronavirus infections, while active cases dropped to 33,232 from 36,244, according to the Union health ministry's data updated today (May 5). The death toll has risen to 5,31,642 with 36 deaths, including nine by Kerala.
The number of Covid cases has been recorded at 4.49 crore (4,49,64,289). The ministry said that active cases now comprise 0.07 per cent of the total infections, while the national COVID-19 recovery rate has been recorded at 98.74 per cent.
Read also: Delhi Metro has achieved 90% of pre-Covid ridership: DMRC chief
The number of people who recovered from the disease increased to 4,43,99,415, while the fatality rate was recorded at 1.18 percent.
vaccination data,
According to the website of the ministry, 220.66 crore doses of Kovid vaccine have been given so far in the country under the nationwide vaccination campaign.
Read also: Covid19: Record 289 new cases in Delhi; Maharashtra's active tally comes down to 3,351
Sl.No.

State/UT Name

active case

cured/discharged/migrated

deaths




Total

change from tomorrow

cumulative

change from tomorrow

cumulative




death during the day




1

Andaman and Nicobar islands

0

10637

129




2

Andhra Pradesh

119

7

2325745

19

14733




3

Arunachal Pradesh

39

2

66618

6

296




4

Assam

7

738080

8035




5

A state in Eastern India

650

107

841528

192

12312




6

Chandigarh

154

30

99251

39

1185




7

Chattisgarh

1445

236

1171033

395

14181




8

Dadra and Nagar Haveli and Daman and Diu

0

11588

4




9

Delhi

1653

318

2011451

514

26637

3




10

Goa*

271

19

258275

58

4014




11

Gujarat

750

104

1279026

186

11074




12

Haryana

[1945

431

1065266

657

10740




13

Himachal Pradesh

652

108

317042

175

4238




14

जम्मू और कश्मीर

241

16

476716

49

4790




15

झारखंड

214

18

438191

52

5333




16

Karnataka

836

51

4045771

192

40351




17

केरल***

7872

372

6818928

1222

71861

1




18

Ladakh

10

1

29332

2

231




19

लक्षद्वीप

0

11363

52




20

मध्य प्रदेश

118

19

1045387

22

10786




21

महाराष्ट्र

2475

404

8015860

749

148532

16




22

मणिपुर

15

3

137806

2149




23

मेघालय

26

8

95222

2

1626




24

मिजोरम

98

2

238296

15

727




25

नगालैंड

5

35218

782




26

ओडिशा

4250

92

1332855

159

9213




27

पुदुचेरी

82

8

175313

17

1981




28

पंजाब **

887

66

771340

250

19320




29

राजस्थान Rajasthan

1797

348

1314068

470

9709

3




30

सिक्किम

89

7

44101

15

500




31

तमिलनाडु

1870

209

3569594

382

38073

1




32

तेलंगाना

287

12

839405

48

4111




33

त्रिपुरा

43

107130

6

940




34

उत्तराखंड

147

70

444333

91

7764




35

Uttar Pradesh

1889

213

2118329

471

23692

2




36

पश्चिम बंगाल

2296

41

2099317

132

21541

1




कुल#

33232

3012

44399415

6587

531642

27




*केरल- "पिछले 24 घंटों के दौरान 1 (एक) मौत की सूचना मिली है। कुल 09 सुलझी हुई मौतों (आईसीएमआर के दिशानिर्देशों के अनुसार और मृत्यु की तारीख के बाद 90 दिनों के भीतर आने वाली) की सूचना मिली थी।




**पंजाब – पंजाब के आंकड़ों के मिलान के बाद सक्रिय मामले और ठीक होने वालों को अपडेट किया गया- मृत्यु दर के आंकड़ों का और मिलान किया जा रहा है। सक्रिय मामलों की संख्या 887 है।




***ओडिशा – सक्रिय मामले डेटा के मिलान के बाद अपडेट किए गए। मृत्यु दर के आंकड़ों का और मिलान जारी है। सक्रिय मामलों की संख्या 4250 है।




*** असम – राज्य द्वारा सूचित किए गए कोविड डेटा की प्रतीक्षा है।




***महाराष्ट्र में 12 मौतों का मिलान कर जोड़ा गया है