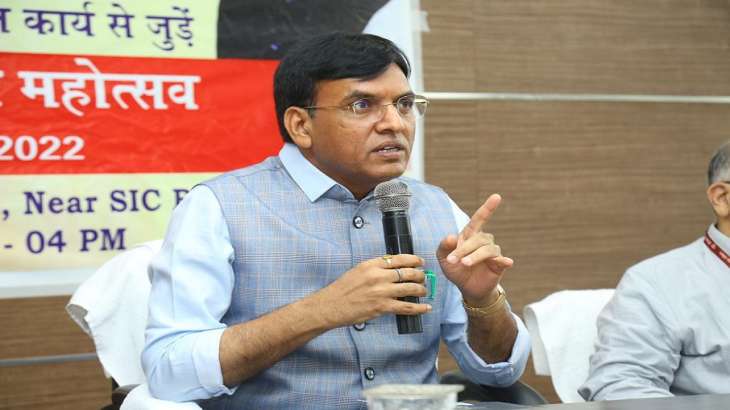 COVID-19 BF.7 variant update: Union Health Minister Mansukh Mandaviya today (January 11) talked about the number of BF.7 variant positive cases found in passengers during screening at Indian airports.
Mandaviya also spoke on the effectiveness of Indian COVID-19 vaccines against the BF.7 variant of the coronavirus pandemic.
"Till date, more than 15 lakh air passengers screened for COVID-19. Out of which more than 200 passengers were found to be COVID positive. Their samples were sent for genome sequencing which showed that many passengers have BF. 7 variant was found. Our vaccines are effective against it." This version," said Union Health Minister Mansukh Mandaviya
India COVID Cases Tally:
India witnessed a single-day increase of 171 fresh COVID-19 cases, while the active cases have risen to 2,342, according to the Union health ministry's data updated on Wednesday. The infection figure in the country has reached 4,46,80,386, while the death toll is 5,30,722.
The daily positivity rate was recorded at 0.09 and the weekly positivity rate was 0.11. Active cases comprise 0.01 per cent of the total infections, while the national COVID-19 recovery rate has risen to 98.80 per cent, according to the health ministry's website. An increase of 23 cases has been registered in the active COVID-19 caseload in a span of 24 hours.
The number of people who have been cured of the disease in the country increased to 4,41,47,322, while the death rate was recorded at 1.19 percent.
Immunization Update:
According to the Ministry's website, 220.15 crore doses of Kovid vaccine have been given so far in the country under the nationwide Kovid-19 vaccination campaign.


India's COVID-19 tally crossed 20 lakh on August 7, 2020, 30 lakh on August 23, 40 lakh on September 5 and 50 lakh on September 16. It had crossed 60 lakhs on 28th September, 70 lakhs on 11th October. It crossed 80 lakhs on 29th October, 90 lakhs on 20th November and 1 crore on 19th December of the same year. India crossed 2 crore on May 4 in 2021 and 3 crore on June 23 and 4 crore on January 25 last year.
Read also: Gut bacteria linked to death risk in Covid patients: Indian-origin scientist
Read also: Can COVID-19 Cause Insomnia? here we know