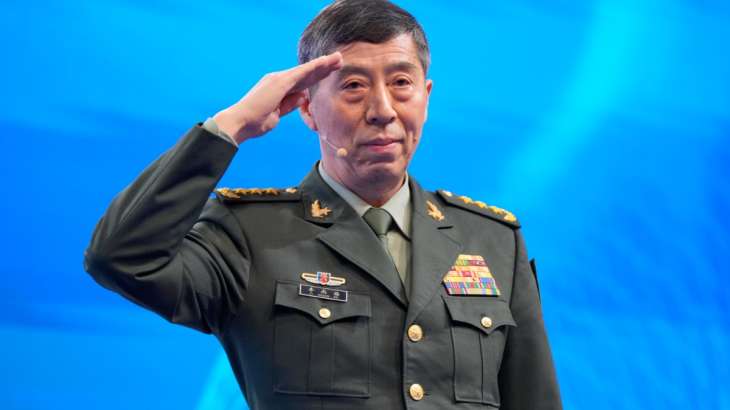 Chinese Defense Minister Li Shangfu said on Sunday that his country preferred dialogue to confrontation and that a conflict with the US would be an "unbearable disaster".
The world is big enough for China and the US to grow together, Li said when he spoke at the Shangri-La Dialogue, Asia's top security summit.
Li was wearing the uniform of a general in the People's Liberation Army.
"China and the US have different systems and differ in many other ways," he said in a speech marking his first major international address since being appointed China's national defense minister in March.
"However, this should not deter both sides from seeking common ground and common interests to enhance bilateral relations and deepen cooperation," he added. "It is undeniable that a serious conflict or confrontation between China and the US would be an intolerable disaster for the world."
The democratically-ruled island of Taiwan, territorial disputes in the South China Sea, and President Joe Biden's embargo on the export of semiconductor chips are just a few of the many issues that have strained ties between Washington and Beijing.
In its most recent column, China's military scrutinized the US and Canada on Saturday for "deliberately provocative exposure" after the nations' naval forces conducted an unusual joint cruise through the fragile Taiwan Strait.
At a security meeting in Singapore on Saturday, US Defense Secretary Lloyd Austin criticized China for refusing to hold military talks that have put the two superpowers at odds.
Although he subtly castigated the United States in his speech, Lee was more reserved and accused "some countries" of deliberately interfering in others' affairs and exacerbating the arms race.
"A Cold War mentality is now making a resurgence, greatly increasing the security risks," he said. "There must be mutual respect over bullying and possession."
Lee, sanctioned by the US in 2018 for buying arms from Russia, warmly welcomed Austin to dinner on Friday; However, the two haven't had more in-depth talks, despite repeated requests from the US for additional military exchanges.
Two Chinese military officials said privately during the conference that before military-to-military talks could resume, Beijing wanted Washington to take a less confrontational approach to Asia, including lifting sanctions against Li.
Read this also | US, Taiwan sign trade deal to boost economic and commercial ties amid China protests Description
read this also , What did China's special envoy who visited Ukraine, Russia and EU countries say on peace talks to end the war